Wednesday, May 16th, 2012
Cavaliers' bats go silent against Titans
Division III District Softball at Lima Bath
By Gary R. Rasberry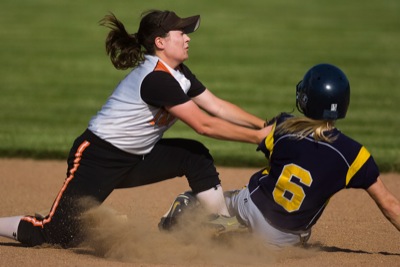 BATH TOWNSHIP - Coldwater's offense was stifled by Ottawa-Glandorf's pitcher Megan Kitchen, who posted double-digit strikeouts as the Titans advanced to the Division III district final for the first time in school history after a 6-2 win over the Cavaliers in semifinal action on Tuesday at Bath High School.
The Titans (16-9) will face the winner of today's semifinal between Kenton and Archbold on Saturday at noon for a trip to the Ashland Regional. The Cavaliers, making their second straight trip to the district tourney, end the season with a record of 13-12.
Kitchen, just a freshman, found her zone right from the start, or at least after hitting Janel Hosbach with the first pitch of the game. Kitchen retired the next seven batters, four by strikeout, before walking Angie Klosterman. The Cavaliers did not get their first hit of the game until two outs in the third frame when Haley Wolf singled.
"She's a very good pitcher," said Coldwater's coach Ken Fisher of Kitchen. "We saw her sister (Haley Kitchen, who hit for Megan on Tuesday) pitch against Fairview (in the sectional final) and she's a good pitcher. Megan just kept us off-balance. At times, we looked way out in front, not knowing what was coming."
"She's been sitting out the past two games. Her sister has been pitching," said Titans' coach Troy Yant. "I think (Megan) was well-rested and wanted to prove herself. She wanted to go for her own strikeout record, came up a little short (striking out 12 Cavaliers). ... She hit her inside pitches really well."
While Kitchen was silencing the Cavaliers' bats, the Titans got started quickly on offense as O-G scored two off Hosbach in the first inning. Michelle Sdao plated Jessie Kreinbrink with an RBI double and Sdao later scored when Molly Closson singled.
Ottawa-Glandorf scored at least one run in each of the first four innings. Hosbach was able to shut down the Titans in the final two innings, but not before O-G collected 11 hits.
"We wanted to be aggressive," said Yant. "... We thought this was a team we could be aggressive against. ... Girls did a great job putting the ball into play."
"They came out aggressive and I think we came out not necessarily not aggressive, but timid. Not ready to go at times," said Fisher. "I give credit to O-G. They's a good team. They're aggressive on the bases and aggressive with the hitting."
Coldwater was finally able to time up Kitchen over the final three innings, getting six of its seven hits within that span. The Cavaliers broke up the shutout in the fifth when Katie Klosterman singled, went to second on an error and later came home on a throwing error.
Things got interesting in the top of the seventh. After Kitchen got the first out, Katie Klosterman walked and was followed by back-to-back singles from Angie Klosterman and Hosbach to load the bases. Wolf lofted a deep fly to left-centerfield to score Karla Borgerding, who was running for Katie Klosterman. That brought up Kiya Dues, who worked the count full before Kitchen changed speeds and got Dues to swing at strike three to end the game.
"I give kudos to my kids," said Fisher. "We made some nice plays out there defensively. We just really never got anything going with the bats. You have to be able to hit the ball to score some runs.
"One of the goals this season was to finish with a winning record, that hasn't happened in a few years," continued Fisher. "We did. We're 13-12."
Hosbach went 2-for-3 for Coldwater while Sdao and Alyssa Ebbeskotte each went 2-for-3 for Ottawa-Glandorf.