Monday, May 21st, 2012
Bulldogs fall one run short
Division II District Softball at Miller City
By Ryan Hines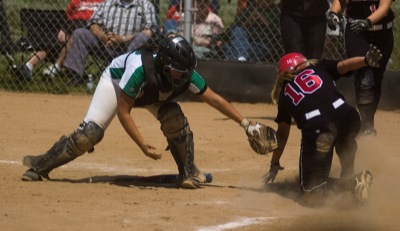 MILLER CITY - A trio of home runs weren't quite enough to dig the Celina softball team out of a five-run hole.
Shawnee captured its third straight Division II district championship on Saturday after a 5-4 victory over Celina at Miller City High School.
The Indians (19-6) scored five quick runs in the first three innings and then barely fended off the Bulldogs' (21-10) rally that fell one run short. It was quite a turnaround for Shawnee, which was defeated 11-1 in five innings on April 27.
"We came out dead the first time we played them and you can't do that against Celina. I think we had a mental advantage today because our girls were thinking revenge after losing by 10 runs the first time around," said Shawnee's head coach Lou Seddelmeyer. "Our girls have worked hard to get back to this point and it's a great accomplishment to be able to make the regional tournament for three straight years."
"Shawnee has strong hitting, pitching and defense. They have all of what it takes to be a great team and they played that way today," said Celina's head coach Nicole Driggs.
Brit Lauck got Shawnee's offense off to a quick start in the first inning with a solo home run while the Indians scored two runs in each of the second and third innings off Celina's pitcher Katie Kerr.
"They got up early and I think that really helped their confidence," said Driggs. "We weren't sharp early on and it cost us."
Kerr was tagged for five runs on eight hits in her 2 2/3 innings of work on the mound for the Bulldogs. Kylee Bader battled through arm discomfort and surrendered just three hits in 4 1/3 shutout innings of relief.
"Kylee went out and gave us a chance to rally. Kylee was hitting her spots and Katie wasn't...That was the difference," said Driggs.
While Bader was able to slow down Shawnee's offense, the Bulldogs began to mount their rally.
Celina jumped right back into the game during the third inning when Kaity Kuhn ripped a solo home run before Cassie Freeman belted a two-run homer to pull the Bulldogs to within two runs at 5-3.
The Bulldogs went scoreless in the fourth, fifth and sixth innings before providing plenty of drama in the seventh frame.
Bader smashed a solo home run to open the seventh inning and the Bulldogs trailed 5-4 with the heart of the order coming to the plate.
"You can't completely shut down their offense, they are too good for that. They hit three home runs today and we were lucky to keep runners off the bases before the home runs," said Seddelmeyer.
Kuhn struck out and Alexis Zacharias wrapped up an 0-for-4 day at the plate with a groundout to third base for the second out. Leah Rose gave Celina some two-out life with a double to left-centerfield but Kerr (0-for-4, three strikeouts) was the 10th strikeout victim of the day for Shawnee's Sam Bullock to end the game.
"We had the top of our order up for the seventh inning and I had all the confidence in the world that we would pull this win out, but we came up just short," said Driggs.
Bullock, who has been on a strict pitch count this season after offseason elbow surgery, pitched a complete game and allowed nine hits.
Kuhn had two singles in addition to her home run while Rose (single, home run) and Freeman (single, home run) each had two hits.
Shelby Lucas singled three times for Shawnee while Mo Truxal, Runneals, Taylor Lucas and Becca Rader had two hits apiece.
Shawnee will play Newark Licking Valley (21-5) at 5 p.m. on Thursday in a regional semifinal game at Bucyrus.