Monday, June 4th, 2012
Twice is Nice: Poeppelman's game-winning single gives Minster second straight state title
Division IV State Baseball Championship Game
By Gary R. Rasberry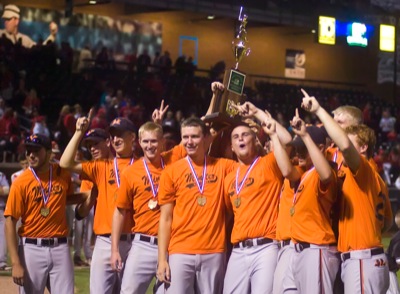 COLUMBUS - Devon Poeppelman didn't realize the game was over until he got gang-tackled by his teammates.
Minster's junior shortstop singled to left with two outs in the bottom of the seventh inning to drive in the game-winning run as the Wildcats knocked off Cuyahoga Heights 5-4 to capture their second straight Division IV state baseball championship on Saturday at Huntington Park in Columbus.
Minster (26-6) wins the 12th state baseball title for the Midwest Athletic Conference and the Wildcats are the first to repeat as Division IV state champs since Patrick Henry accomplished the feat in 2008-09. The Redskins, making their first trek to state since 1976, end their season at 25-5.
"I can't find words to describe it," said Poeppelman. "I'll enjoy it."
It appeared that the Wildcats were going to post a second straight shutout win in the finals after blanking New Middletown Springfield 6-0 last season. After five shutout innings from Doug Huber and a perfect sixth frame by Austin Knapke, Minster led 4-0 going into the top of the seventh inning and Wildcats' fans were waiting to celebrate.
"We felt very comfortable with AK on the mound," said Minster's coach Mike Wiss, referring to Austin Knapke. "He was in that same exact spot last year with the crowd chanting."
Cuyahoga Heights, though, was not about to go quietly. Andrew Tesler greeted Knapke with a single to lead off the inning and Austin Lane, who hit two home runs in Friday's state semifinal, did not get a pitch close to the strike zone and was walked. A Zach Browning single loaded the bases for Jason Kleppel, who bounced one by Brandon Hoying at third to bring two runs home and halve the Wildcats' lead. Knapke induced Ryan Rosenlieb to ground into a force at third for the first out, but Jim Korenowsky hit a chopper to second and it bounced wildly past Andrew Knapke as the Redskins trimmed the score to 4-3 with runners on the corners. Rob Kozak grounded a ball deep enough into the hole at second to allow Rosenlieb to score the tying run on the ground out before Alex Zander flew to right to end the inning.
"The ground ball to AK's (Austin Knapke) brother AK (Andrew Knapke) at second. I've been here four times the last two years and have never seen a hop like that," said Wiss of Korenowsky's chopper. It was almost like 'Is today our day or not?' We got out of it."
The Wildcats had the top of the order up to face Browning, who came in to pitch in the fifth inning in relief of Zander. Jay Eilerman got Minster's rally started with a single to left. Austin Knapke did his duty and dropped a perfect bunt to move Eilerman into scoring position. After Adam Niemeyer popped up for the second out, Poeppelman worked the count full before getting the payoff pitch from Browning.
"I was sitting (waiting for a) fastball," said Poeppelman of the ultimate pitch. "I knew he was going to try and give me something decent - he wasn't going to walk me. I just sat back and looked dead red and got it."
Poeppelman didn't even look to see if the ball was fair or foul.
"The guy at third (Lane) is pretty tall (6-5). I was hoping it would get over top of him. Luckily, it did. It didn't click, until my teammates tackled me," said Poeppelman.
Eilerman didn't need Wiss to tell him to come home. The momentary bobble by the leftfielder gave Eilerman plenty of time to score the game-winning run as Wiss dropped to his knees and pounded the ground while celebrating.
"The catcher's face just dropped and I knew I was safe," said Eilerman. "That's all I can say about it."
"It's an unforgettable day," said Huber, who went 2-for-3 with two RBI in addition to his strong effort on the mound. "We all played as a team (and) won as a team. Just amazing!"