Tuesday, June 26th, 2012
St. Henry looks at continuous levy
Funding sought for more police, new swimming pool
By Betty Lawrence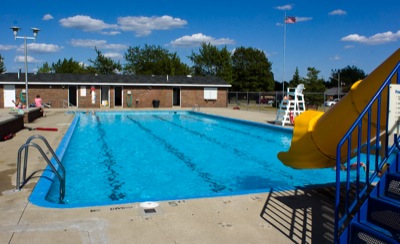 ST. HENRY - Residents likely will see a half percent income tax increase on the November election ballot to help fund a new swimming pool and future village operating expenses.
Council members on Monday agreed to hold first reading of a resolution to put the levy on the ballot at the July 9 council meeting. The measure must be approved and certified by the auditor's office before Aug. 8 to get on the ballot.
"The money raised will be for projects over the next 10 to 15 years," village administrator Ron Gelhaus said this morning. "The proposed (community) pool is one of them, but there are a multitude of other things that the village will need to undertake."
Some of those projects include adding up to two full-time police officers, a new water tower and water and wastewater infrastructure work.
Gelhaus noted the village could be losing as much as $115,000 a year due to cuts in government funding and phasing out of the inheritance tax and tangible personal property tax.
The village currently has a 1 percent income tax rate. The new permanent levy, if passed, would bring in approximately $480,000 annually. A resident with an annual income of $50,000 would pay an additional $250 a year.
Council members at recent meetings have reviewed designs for a new pool with a $2.4 million price tag. Residents who spoke out at a meeting last week said the cost was too high.
"That price tag is not acceptable by the council," Gelhaus said. "We must get it below $2 million, and this is the focus. We would like it between $1.5 and $1.9 million. This would be more responsible."
There were no residents at Monday's meeting.
"If the tax levy passes, there is still time to tweak the drawing for the pool," Gelhaus said.
Council members also have said the proposed tax would not include a credit for those who live in the village but work outside of it. Those residents already receive a 1 percent credit.
"Currently, we give a 1 percent credit, 100 percent credit, however, if it raises to 1 1/2 percent, they are responsible for the half percent," Gelhaus said.
In other action, council members,
• learned work is starting on the Eastern Avenue box culvert.
• learned village crews are completing curb and line painting in preparation for this weekend's Community Picnic and the 175th village anniversary events the following week.