Saturday, June 30th, 2012
Storm rips through area
80 mph winds, power outages, numerous downed trees and structure damage reported; no serious injuries
By Nancy Allen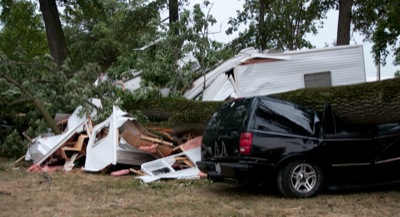 Widespread power outages, downed trees and structural damage were reported throughout Mercer and Auglaize counties on Friday after winds estimated at 80 mph ripped through the area.
No serious injuries were reported.
Little rain accompanied the sever thunderstorm that blew into the area about 3:15 p.m. and caused sever damage throughout most of Ohio.
Monte Diegel, Mercer Count 911 administrator, said most calls received were about downed trees and power lines. A few grass fires sparked by power lines also were reported.
"It was concentrated in Coldwater on north with a couple of reports of damage from Fort Recovery, but mostly Coldwater, Mendon and Rockford," Diegel said of the damage. "We had numerous reports from Celina and Coldwater of lines down."
Auglaize County 911 officials did not return calls seeking a damage report.
A dozen buildings were damaged in Celina, including the roof of the Mercer County Fairgrounds grandstand.
Diegel said three to four calls were received from the Rockford area of a possible funnel cloudy, though nothing was confirmed. Meteorologist Brian Coniglio with the National Weather Service in Wilmington attributed the damage to straight line winds. The line of storms formed in an unstable, hot, humid air mass, he said.
"The temperature was near 100 before the storm so it was an unstable air mass which gives storms a lot of energy," Coniglio said. "The storm pushed across most of the state."
The State Highway Patrol said the high winds blew over three tractor-trailers on Interstate 75 near Findlay, but no one was injured.
Several fire departments and numerous Mercer County Emergency Response Volunteer units were dispatched to provide security around downed power lines, Diegel said.
Thousands of customers in Mercer and Auglaize counties remained without power late Friday. Power was restored in Celina shortly after midnight.
The power feed to Celina Municipal Utilities from DP&L was damaged by the storm, Celina Police Chief Dave Slusser said.
However, a DP&L spokesman said the repair could take days, even with crews from out of town helping.
"We have no specific (outage) numbers yet but the storm system swept across our 6,000-square-mile service area," said Tom Tatham with DP&L. "It's certainly going to be a multiple-day restoration effort."
Tatham said DP&L would focus on its high voltage transmission service and facilities that serve the region and restoring service to critical agencies such as hospitals, police and fire.
Midwest Electric spokesman Matt Berry said the company's 5,000 customers in mostly rural parts of Mercer and Auglaize counties were without power Friday night along with 70 percent of Midwest's 10,000 total customers in west central Ohio.
Berry said Midwest must wait on repairs to be done by crews from DP&L, which provides electric transmission to Midwest.
American Electric Power of Ohio reported roughly 243,000 customers without power statewide.
Residents using power generators should place them outside buildings and properly vent the exhaust, Slusser said.