Saturday, August 25th, 2012
Bulldogs bury Tigers in first half
Celina is 1-0 for first time since 2004
By Ryan Hines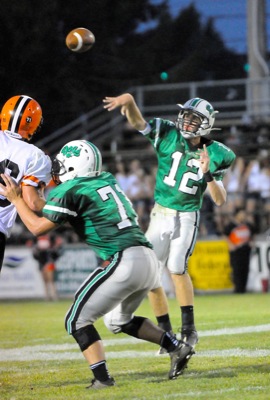 CELINA - Big plays in all three phases of the game helped Celina's football team to a convincing 46-26 win over Versailles as the Bulldogs were able to celebrate a season-opening victory for the first time since 2004.
"It's a big win for our program. We haven't opened the season with a win in a long time (Aug. 27, 2004 against Greenville)," said Celina's head coach Jared Rolfes. "I thought we played pretty well in all phases of the game in the first half. We didn't play very well in the second half, but I think tonight can give us confidence that we can be a pretty good football team."
Celina certainly looked like a good team in the first half of play as the offense benefited from big plays on defense and special teams to build a commanding 39-14 advantage by halftime.
A surprise from the Bulldogs' kickoff team led to the first Celina touchdown as Rolfes called for an on-side kick to open the season and Jack Hinders recovered the ball on Versailles' 42-yard line. The Bulldogs' ensuing five-play drive was capped when Cody Vogel ran a deep post route with Braden Billger delivering a perfect pass for a 24-yard touchdown.
Versailles answered with a big play of its own when All-Ohio quarterback Nick Campbell side-stepped a Celina defender and tossed an 83-yard touchdown pass to Jacob Barga.
Celina's defense paved the way for a 21-6 lead by the end of the first quarter after forcing a pair of fumbles that led to Bulldogs' touchdowns.
The Bulldogs' Jalen Knous recovered one fumble after a sack on Versailles' one-yard line and Zach Hembree then took a one-yard plunge into the end zone for the first of four touchdowns on the night. Tanner Shindeldecker recovered another fumble on Versailles' next possession and it took Celina six plays to cover 61 yards with Hembree taking a screen pass from Billger for a 21-yard touchdown to cap the drive.
Versailles pulled to within a touchdown after a Jacob Paulus 26-yard scoring run, but the Bulldogs tacked on three touchdowns before halftime.
Billger hooked up with Braelen Bader on a 46-yard touchdown pass before special teams provided another big play. Hinders blocked a Versailles punt and Shindeldecker recovered the ball on the Tigers' eight-yard line. Hembree covered the eight yards in two rushes to put Celina on top 33-14.
The Bulldogs capped an electric first half of play when Collen Byer hauled in an 82-yard touchdown pass from Billger. The 82-yard completion is tied for the seventh-longest ever at Celina.
"Braden did a good job of avoiding some pressure on that play to buy a little more time and Collen did a good job of getting behind the defense. The ball was thrown on the money," said Rolfes.
Celina then added its fourth unanswered touchdown of the game just 23 seconds into the second half. On the first play of the third quarter, Hembree ran off tackle and bounced off several Versailles' defenders and then zig-zagged through the Tigers' secondary before racing 72 yards for a touchdown.
"The line did a great job of giving me an opening and I just tried to run as hard as I could after that," said Hembree, who finished the night with 24 carries for 158 yards and added two receptions for 43 yards with four total TDs. "The line did a great job all night long."
Billger finished the night 13-of-25 passing for 297 yards and four touchdowns. The Bulldogs' senior quarterback is 95 yards shy of breaking Celina's career passing mark currently held by Trent Dysert (5,974 career passing yards from 1995-98).
Campbell tossed a pair of touchdowns in the second half and finished 9-of-15 for 204 yards and three TD passes. Barga was the top receiver with two catches for 120 yards.
"We showed in the second half that we have plenty to work on, but the guys are excited right now and they should be," said Rolfes. "Versailles has a lot of great athletes and they will go on to win a lot of games this year. We just beat a good football team tonight."