Wednesday, October 3rd, 2012
Man fair after accident
Rockford resident was pinned by backhoe at his home
By Margie Wuebker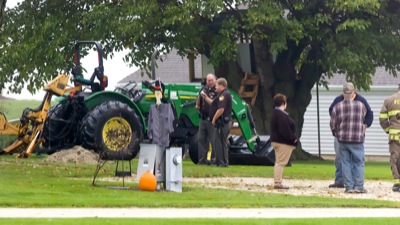 A 66-year-old Rockford man has been upgraded to fair condition after being pinned by a backhoe at his home Tuesday morning,
Ronald Frahm, 2850 state Route 707, was operating a backhoe implement attached to his farm tractor shortly after 9 a.m. when the arm came up too far and pinned him against the roll bar, according to Mercer County Sheriff's Office reports.
Several people helping with the storm drainage project came to Frahm's aid. When initial attempts to free him failed, they cut hydraulic lines to lower the arm.
"Thankfully, people were there with him," Capt. Martin Emerine of the sheriff's office said this morning. "The quick action of the people at the scene certainly made a difference."
The 911 call, which initially went to the Van Wert County Sheriff's Office, indicated Frahm was not breathing at the time. Mercer County Emergency Medical Services responded to the scene.
He was taken to Mercer County Community Hospital in Coldwater and transferred to Parkview Memorial Hospital in Fort Wayne, Ind.