Friday, November 9th, 2012
Murder suspect at large
Rockford woman shot to death in alleged domestic dispute
By Margie Wuebker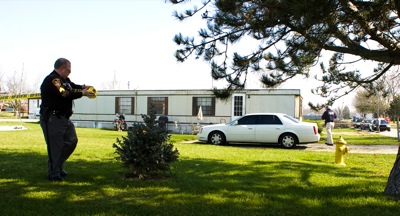 ROCKFORD - Authorities are searching for 40-year-old Daniel C. Martin in connection with the fatal shooting of his live-in girlfriend on Thursday.
Melinda "Mindy" S. Shinn, 26, 509 W. North St., was found dead in her mobile home about 10:45 a.m. Rockford Police Chief Paul May responded to the location after a concerned relative called 911.
Mercer County Sheriff Jeff Grey, who has taken over the investigation, said detectives believe the shooting came about as the result of arguments that began late Wednesday night. The victim reportedly sent text messages to others regarding the altercation.
"Sometime during the early morning hours of Thursday, a firearm was used to cause her death," the sheriff said.
The woman's 9-year-old son, who was in the mobile home at the time of the shooting, was not harmed and was taken to the home of relatives.
Yellow crime scene tape
ringed the yard around the beige mobile home as local law enforcement officers and agents from the Ohio Bureau of Criminal Investigation and Identification began processing the scene late Thursday morning.
Authorities have been to the address several times for various complaints in the two years Martin lived there, May said.
An arrest warrant for murder was issued for Martin after relatives were interviewed at the sheriff's office. Martin's 1998 Ford Explorer has been located by authorities in Fort Wayne and impounded.
Grey said Martin, who has a criminal history and violent tendencies, should be considered armed and dangerous. He is described as 5 feet, 11 inches tall, weighing 230 pounds with black hair and brown eyes.
"Do not approach him," the sheriff warned. "Anyone who knows of his whereabouts should contact the sheriff's office at 419-586-7724."
Shinn's body was taken to the Lucas County Coroner's Office in Toledo. Detectives were to attend her autopsy this afternoon.
Law enforcement officers remained at the scene until 8 p.m.
A woman, identified only as Crystal, remembered her neighbor as a person with a ready smile.
"Mindy was a sweet person," she said. "She would help you any way she could and ask nothing in return. She certainly did not deserve anything like this ... I don't know what is wrong with people these days."
She said Martin worked at the Fremont Company in Rockford and had children in the area as well as in Fort Wayne.
Neighbor Len Archibald knew Mindy and her mother, Carolyn Osborne. Archibald described them as good people with whom he and his wife occasionally shared baked goods.
Residents of other nearby mobile homes said they knew something was wrong because Mindy's car - an older model white Cadillac Deville - was still in the driveway. They said she always left early in the morning for her job at Cooper Farms in St. Henry.
Rev. Randy Christian of The Lord's Church in Celina saw Mindy on Wednesday night during a Bible study at the church.
"She was a warm, giving person with a sweet spirit and a tender heart," he said this morning.
Rockford Mayor Amy Joseph said the small community has been rocked by the shooting.
"In a tight-knit community like Rockford, people band together and help each other during tough times," she said.
May, who requested the sheriff's office take over the investigation given the small size of his department, said things like this typically don't happen in Rockford.
"I've been here 20 years and this is the first murder I am aware of," he said.