Saturday, November 10th, 2012
Long overdue medals presented to W.W. II veteran
By Margie Wuebker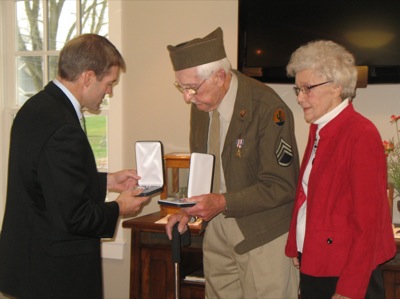 NEW BREMEN - At 93, Ralph Boerger never expected to see all the medals he earned as a U.S. Army medic during World War II.
Thanks to the efforts of friends and U.S. Rep. Jim Jordan, Boerger is marking Veterans Day with the full complement of medals - from the Silver Star to a good conduct button - he should have received more than six decades ago. He received the medals during a special ceremony Oct. 25 at the Miami and Erie Canal Welcome Center.
"I did not want to be in the infantry," he said of when he enlisted. "Serving as a medic gave me the opportunity to help people instead of shooting at them."
Following basic and specialized medical training, he and fellow members of the 45th Thunderbird Division ended up at Camp Picket, Va.
"I saw the Atlantic Ocean and knew we were headed overseas," he said. "Our ship first headed along the coast to Florida before setting sail for Africa. It was tactic to avoid enemy submarines."
Fighting ended in Africa during the three-week trip so the ship diverted to Sicily. Medics accompanied the infantry on the beach landing, crawling on their bellies to avoid enemy fire.
"Medics did not carry guns and we had red crosses on our helmets," Boerger said. "The enemy did not comply with rules laid out during the Geneva Convention ... those red crosses became targets."
He spent 753 days on the front lines in the European Theatre treating the wounded in Sicily, Italy, Switzerland, France and Czechoslovakia during six campaigns.
On one occasion an officer summoned him to treat a German soldier bleeding profusely from a leg wound.
"I was the only medic in the unit who could speak German," he said. "He needed plasma but refused, telling me 'I don't want no American blood.' There was nothing more to do for him."
Medics like Boerger carried minimal first aid equipment - powdered penicillin, morphine and alcohol - in their backpacks. They also had small axes, folding shovels for digging foxholes, canteens and packaged meals known as K-rations.
"I took advantage of an opportunity to become an ambulance driver," he said. "The big red crosses on the top and sides made me a rolling target."
He earned the Silver Star - the third highest medal awarded for valor - for his actions when a first aid station came under fire.
Boerger spotted a trailer loaded with gasoline near the tent, ran to get a jeep and towed it a safe distance away. A shell hit and the trailer exploded in a fireball as he scurried away.
"The captain grabbed my hand and told me I had saved a lot of lives," he said. "I'll remember that moment as long as I live."
Each day brought a new challenge and a slew of injured men. He attributes a prayer card given to soldiers and help from above for bringing him home safely.
"Only three of the men in my unit made it home, and I was one of them," he said. "There were some mighty close calls ... more than you can shake a stick at."
There is one bright spot in his wartime memories. He earned a three-day pass at one point to visit his brother Clarence on duty with an artillery unit.
"We shared a night in a foxhole and some wine purchased from a local," he said. "It took a day to get there and a day to get back but it was worth every second."
Boerger returned to the states in 1945 after nearly three years of service. It was during a one-week leave he met Eileen Perin, who later became his wife.
"I wore my uniform to a dance at Eagles Park in Minster and saw her there," he said with a laugh. "I asked to take her home and the rest is history. She's put up with me all these years."
The couple has two daughters, three grandchildren and five great-grandchildren.
Boerger, who later farmed, drove a milk can collection route for Fort Recovery Equity and worked at Minster Supply Co., often speaks to high school history classes.
"I hope those students never have to go to war," he said. "But I want them to know the sacrifices veterans made so that they might enjoy freedom."

Veterans Day services:
Veterans Day services for the public will be held in Celina and St. Marys this weekend.
Mercer County Veterans Day services are 2 p.m. Sunday at Celina's Lake Shore Park.
St. Marys will host a parade at 1 p.m. Saturday. Mayor Patrick McGowan will give a short speech prior to the parade at 12:30 in front of the theater on Spring Street. The parade, organized by John Burd, will begin at the Chestnut Street parking lot and then go down Spruce, Spring and Wayne streets.