Thursday, February 7th, 2013
Cavs fall at home to Tigers
By Gary R. Rasberry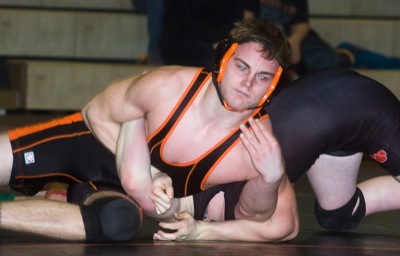 COLDWATER - The Versailles wrestling team earned a berth in the Division III state tournament after a 37-26 victory over Coldwater in Wednesday's regional final at The Palace.
The Tigers now advance to Saturday's team state tournament at St. John Arena in Columbus.
Coldwater's coach Rob Schmidt held out many of his varsity starters during Saturday's Midwest Athletic Conference trimatch in order to rest them for Wednesday's regional final. The Cavs and Tigers were at full strength in front of a vocal and enthusiastic crowd at The Palace as the two rivals battled for bragging rights in the MAC.
Versailles' Nathan Henry got a takedown with eight seconds left in overtime to beat Coldwater's Jay Uhlenhake in the opening match at 103 pounds. However, Coldwater grabbed a 7-3 lead after a decision win from Spencer Seibert at 113 pounds and a victory by major decision from Tyler Tebbe at 120 pounds.
The Tigers took control over the next five bouts. Andrew Slonkosky (126 pounds) and Matt Subler (138 pounds) scored pins and Matt Mangen earned a 25-10 technical fall at 132 pounds before decision wins by Kyle Platfoot (145 pounds) and Brandon Christian (152 pounds) helped give the Tigers a 26-7 lead at the midway point.
The Cavaliers began to make a run starting at 160 pounds. Brent Collett had a strong third period against Joe Cain and won 14-6 by major decision before Derek Collett followed with a pin over Kyle Gigandet in just 27 seconds. The Tigers were then hit with an unsportsmanlike conduct penalty, deducting a team point to cut the Tigers' lead to 25-17.
Coldwater's Nick Clune then added an 8-3 win at 182 pounds to cut the Cavaliers' deficit to five points with three matches remaining.
"Nick Clune put us right back in it. That was big," said Coldwater's head coach Rob Schmidt. "That was one where we didn't know if we could win. He put us back into it."
Schmidt then sent freshman Corey Selhorst to wrestle at 195 pounds against Kyle Dieringer and Dieringer scored six takedowns over two periods before getting a pin at the 3:22 mark which gave the Tigers a 31-20 advantage.
The Cavaliers needed two pins in their final two matches to rally for the win. Andrew Schwieterman stepped onto the mat for the 220-pound bout against Andrew Smith and Schwieterman was up 4-1 after two minutes of action before Smith registered the pin 38 seconds into the second period to clinch the match for the Tigers. The Tigers then conceded the 285 bout to Justin Post to close out match.
"We knew it was going to be a hard-fought battle up here," said Tigers' coach A.J. Bey. "Both teams are pretty good, pretty solid. We knew by getting the bonus points with pins and then staying off our back that we had a chance to win."
"I'm disappointed right now," said Schmidt. "We wrestled well in places and in other places we need to do better. It didn't fall our way. Our kids gave 100 percent. It just didn't fall our way tonight."