Saturday, February 9th, 2013
A 'modest' recovery for area
Realtors cautious despite small boost in housing market
By Eric Adams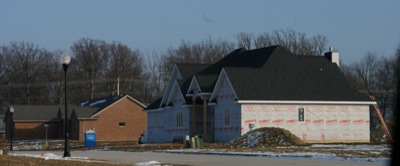 The national housing market crash is roughly five years past, but home sales remain a point of concern for real estate agents and prospective buyers in the area.
A recent report from the Ohio Association of Realtors said the number of single-family homes and condominiums put under agreement had risen 9 percent in the state from December 2011 to the present.
Mercer County Auditor Randy Grapner said the local housing market is "on solid footing," but he was hesitant to make any optimistic predictions.
"Even though I see them (positive trends) coming, it's not a dramatic recovery," Grapner said. "It's tenuous; if we were to lose a local employer, or something happened in Washington (D.C.), that could turn our market in an instant."
Statistics from Grapner's office show that 321 homes and properties were sold at an average price of $121,209 last year. Both numbers exceed 2010 and 2011 totals, which were 232 sales at an average price of $107,939 and 224 sales at an average price of $115,317, respectively. So far this year, 25 county parcels have sold at an average price of $111,100.
In Auglaize County, the number of homes sold jumped from 256 in 2011 to 307 in 2012. The average sale price dipped slightly, however, from $121,950 to $117,475.
Deb Borns, owner of Coldwell Banker Lake Shore, called the area's recovery "modest." Her statistics indicate that the current average home value in Mercer County is identical to 2007, the year before the housing market crash.
Borns, who has worked as an agent in the area for 37 years, cautioned that averages are not reliable because a small number of high-end home sales can easily offset them.
She credited the passing of the presidential election for the recent, small boost in local sales.
"Nothing major has happened (to affect the market), but people are basically saying 'we're not going to play this political game anymore,' " said Borns, who was referencing the attention many media outlets gave to the fiscal cliff and resultant public apprehension.
Another factor Borns cited was interest rates, which are as low as 2.75 percent for a 15-year mortgage at local lending institutions.
Margie Sherrill, a Century 21 agent in Celina for 25 years, said when she bought her home in 1979 rates were at 11 percent.
"They jumped up to 14 (percent) two weeks after that; it just made your payment so high," she said. "People should be buying now because no one knows how long (these rates) will last."
Sherrill said her office has not seen a notable change in sales from 2010 to the present, although lake sales have stagnated.
"The way we understand it, there's some banks that won't even give loans on lakeside homes," she said.
Local real estate agent Linda May believes there's more than just the lake affecting sales of high-end dwellings.
"It's not just on the lake, it's nationwide," May said of decreased home sales. "The high-end homes are not selling; people just aren't willing to put out the cash."
Grapner confirmed her report.
"I don't think we're different from any lakefront destination," he said. "We've seen a national decline in second home sales; there hasn't been the disposable income."
May said she queried local banks and credit unions about their lending practices and reviewed multiple listings of lake homes sold. She said those between $140,000 to $190,000 are selling, but those $500,000 and above are not.
She also cautioned sellers to be careful on the appraisers they get to value their homes prior to sale.
"If your appraiser says the home is located on a toxic lake, Freddie Mac won't do (refinance) that," she said.
According to Borns, lake toxicity is not a problem unique to Mercer and Auglaize counties.
"Water bodies around the world are experiencing pollution due to climate change," she said. "There's still some interest (in lakefront property), but it's mostly current owners making the best of it. What's good is that now, someone who lives in this area can easily buy a lakefront home."