Wednesday, March 6th, 2013
Rematch for MAC champs in district final
Division IV District at Elida
By Ryan Hines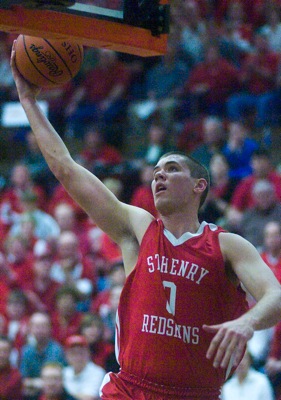 ELIDA - The co-champions of the Midwest Athletic Conference will have a rematch for a Division IV district championship after St. Henry and St. John's posted double-digit wins in semifinal action on Tuesday night at Elida's Fieldhouse.
St. Henry broke open a tight game with an 8-2 run to start the fourth quarter and the Redskins buried free throws down the stretch en route to a 61-51 victory.
St. John's held New Bremen scoreless for the first 3:49 of the fourth quarter and the Blue Jays made 15-of-17 at the free-throw line in the final stanza to earn a 57-45 win.
St. Henry (22-3) and St. John's (18-5) will play in Friday's district championship game at 7 p.m. with the winner advancing to the Kettering regional to face either Jackson Center or Fairfield Cincinnati Christian.

ST. HENRY 61, CRESTVIEW 51
The Redskins relied on Kyle Stahl and Ryan Mikesell for the first three quarters as the duo combined to score 30 points to help give St. Henry a 37-35 lead going into the final eight minutes of play.
St. Henry then started the fourth quarter with a pivotal 8-2 run that gave the Redskins their biggest lead of the game to that point at 45-37.
Stahl muscled his way to the basket for two points to start the spurt, but Crestview's Damian Helm answered with a bucket of his own before Jordan Bender made two huge plays for the Redskins. Bender buried a deep three-pointer and then converted on an old-fashioned three-point play to cap the run.
"Jordan Bender is a gamer. When the lights are on, he is there. He had an excellent game," said St. Henry head coach Eric Rosenbeck.
Crestview pulled to within five points on three different occasions in the final two minutes of the game, but St. Henry held off the Knights with a solid showing at the free-throw line. The Redskins, who are shooting just 62.5 percent from the charity stripe for the season, made 11-of-15 (73 percent) in the fourth quarter.
Crestview rarely tried to double-team Stahl in the paint and he burned them by hitting 11-of-18 from the floor and three-of-three at the free-throw line for a game-high 25 points to go along with a game-high 14 rebounds.
"Guys like Kent Hemmelgarn, Jesse Evers and Taz (Alex) Post deserve a lot of credit for setting good screens to get him open and our having our head up on offense and getting him the ball," said Rosenbeck. "When he gets the ball on the block and they try to go one-on-one with him, he's going to score in those situations eight or nine out of 10 times."
In addition to Stahl, Mikesell and Bender also hit for double figures with 15 and 12 points, respectively. The trio combined to score 52 of the 61 points for St. Henry.
"Tim Boeckman, our old athletic director, told me for years that if you are going to make a tournament run that you need a solid group of seniors and that's what we have," said Rosenbeck. "Just an excellent job by our guys and a big win for us."
Crestview's Damian Helm and Tyson Bolenbaugh were also tough to contain in the paint as the duo combined for 30 points while Cam Etzler added 12 points.
Rosenbeck and his crew can now turn their attention to a rematch against St. John's as the Redskins are aiming for their second straight district title. St. Henry defeated St. John's 71-57 in their regular-season meeting on Jan. 25 in Delphos.
"St. John's is an excellent team and we have the utmost respect for coach Elwer, (Curtis) Geise, (Ryan) Buescher and the rest of the Blue Jays," said Rosenbeck. "We know that we are going to have our hands full, but at this point in the tournament everyone has their hands full. We will lace them up again and it's going to be a great atmosphere."

ST. JOHN'S 57, NEW BREMEN 45
New Bremen trailed for nearly all of the first half and was down 27-22 at the 6:17 mark of the third quarter before the Cardinals made a run.
Cardinals' big men Justin Heitkamp and Ben Homan combined for seven points to spark an 11-1 run that vaulted New Bremen to a 33-28 advantage. It was the first lead for the Cardinals since 6-5 in the first quarter.
The lead was short-lived, though, as St. John's closed the third quarter with an 8-2 spurt. After five points from Curtis Geise, Ryan Koester buried a three-pointer with 11 seconds remaining in the third quarter to put the Blue Jays on top for good at 36-35.
The Blue Jays then clamped down defensively on the Cardinals to open the fourth quarter. St. John's held New Bremen scoreless for the first 3:49 of the final quarter and the Blue Jays went on a 9-2 run to build a comfortable lead at 45-37 with 3:52 remaining in the game.
"We played a lot of match-up zone, but in the past month we have gone to a man-to-man (defense) and our guys have bought in," said St. John's head coach Aaron Elwer. "We challenged them about midway through the year about being better defensively and over the last six games we have held some really good teams to some low scores. Tonight was no different."
New Bremen pulled to within five points and six points at two different moments in the final three minutes of play after three-pointers by Luke Schwieterman and Parker Manger, but St. John's buried the Cardinals with some sharp shooting from the free-throw line. The Blue Jays made 15-of-17 from the charity stripe in the fourth quarter and 20-of-26 overall in the game.
"You can't get down to them and we knew that coming into the game," said New Bremen head coach Adam Dougherty. "You have to be within one or two points of them the whole night because if they get in front, they shoot free throws so well that you have to do something amazing (to rally). They shoot it really well."
The success at the free-throw line is no fluke, according to Elwer.
"We are 77 percent for the year and it beats the St. John's record by like six percent," said Elwer of the Blue Jays' shooting at the free-throw line. "Come tournament time and late in the game, it's very important. We have a lot of confidence there."
Geise, the MAC's Player of the Year, made 11-of-14 free throws and finished with a game-high 24 points while Koester knocked down four three-pointers on the way to scoring 13 points.
It was a struggle offensively all night long for New Bremen as the Cardinals shot just 33 percent (17-of-51) from the floor.
"They were just a step quicker and a bit tougher than we were tonight and they got every loose ball," said Dougherty. "We got looks at the rim but we didn't finish them. It just didn't go in. They don't make mistakes and they deserve a lot of credit."
Schwieterman paced New Bremen with 14 points while Parker Manger scored 10 points.