Friday, March 8th, 2013
Marion Local's rally falls short
Division IV Regional at Tipp City
By Gary R. Rasberry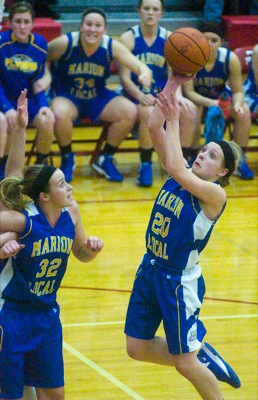 TIPP CITY - Marion Local's girls basketball team staged a tremendous comeback by trimming a 23-point deficit to two points before Fort Loramie held on for a 71-66 victory in the Division IV regional semifinal on Thursday night at Tippecanoe High School.
The Redskins (24-3) will take on fifth-ranked Tri-Village (25-2) in Saturday's regional final at 7:30 p.m. The Patriots held off Mechanicsburg 47-44 in Wednesday's other semifinal.
The Flyers (19-8) struggled early and were down 54-32 after three quarters as Fort Loramie shot lights out from the field and took advantage of 16 Marion Local turnovers.
"We came out slow, sluggish and didn't screen well. Fort Loramie played extremely well," said Marion Local coach Treva Fortkamp. "When you bury yourself to a team like that, we had to scrap our buns off to get back in the game."
But as Fort Loramie coach Carla Siegel already knew well after years of playing against Marion Local, there was no quit in the Flyers.
Marion Local's comeback began after Fort Loramie's Megan Imwalle hit a free throw after a few seconds into the fourth quarter to give the Redskins a 55-32 lead. Over the next 5 1/2 minutes, the Flyers began to hit shots and force the Redskins into turnovers - Fort Loramie only had four in the first half - that resulted in some easy baskets. When Cadence Jacobs hit a bucket with 2:22 remaining in the game, Marion Local was only trailing by seven points at 58-51.
Fort Loramie freshman Kelly Boerger hit a pair of free throws to push the lead back to nine, but Marion Local's Megan Kuether came back with a layup, then stole the inbounds pass and was fouled before hitting one of two free throws to pull the Flyers within six points at 60-54. After Boerger missed a pair of free throws, Brooke Winner hit a layup to cut the Flyers' deficit to 60-56.
"She (Fortkamp) puts five phenomenal players on the floor," said Siegel. "Usually when you guard a team, you think you can play these three girls hard and lay off the other two. ... We had to man up on all five of them."
"Six minutes (left) in the fourth quarter, I don't know if the light came on for them or what," said Fortkamp of her team's rally. "It was a different team. We fought hard.We were right there."
The teams traded free throws the next several possessions and Fort Loramie led 64-58 with 1:10 left on the clock, but the Flyers got a break as Brooke Winner scored and was fouled. Winner's foul shot missed, but she got her own rebound and scored with 55 seconds left in the game with the Flyers trailing by just two points at 64-62.
A wild inbounds pass saw Fort Loramie lose, but recover possession, with Boerger getting an uncontested layup with 44 seconds left in the game to push the lead back to four points at 66-62. After Kuether hit a pair of free throws for the Flyers, Fort Loramie's Darian Rose, who had 16 points in the first half, drove into the lane and got the hoop-and-harm three-point play that put the Redskins up 69-64.
Chelsea Winner scored for the Flyers with 21.9 seconds on the clock to make it a three-point game, but Fort Loramie kept the Flyers from getting any more points as Paige Ordean hit two free throws with 16 seconds left to ice the game.
"Hats off to my girls for not quitting," said Fortkamp. "That's a tough team we played here tonight."
"There's no quit in them," said Siegel of Marion Local. "That's what it was like the first time we played them (a 78-75 Fort Loramie win in the first game of the season in November). It was back and forth. Kuether just kept driving the lane, and I thought Chelsea played a great game today.
"I think we got a little complacent there," added Siegel. "We didn't take care of the ball. Someone told me we had five turnovers in the first half and we ended up with 20-some. ... The clock didn't go fast enough for me."
Chelsea Winner completed her Marion Local career with 21 points and 10 rebounds and Brooke Winner added 13 points and seven boards while Kuether and Allie Thobe added 13 and 10 points, respectively.
Rose, who went over the 1,000-point mark for her career during the first half, finished with a game-high 29 points while Boerger added 16.
"Rose was on first. What can you say about her?" said Fortkamp of Rose, who was 9-of-14 from the field and 9-of-10 from the free-throw line. "Great player. Thought we'd let her shoot the 17-footer, because she's so deadly in the middle. She proved me wrong (going 2-of-3 from behind the three-point line). Boerger had a big night."