Tuesday, April 2nd, 2013
Suspects in Grube case often in trouble
Union City residents tell of trying to help both men
By Margie Wuebker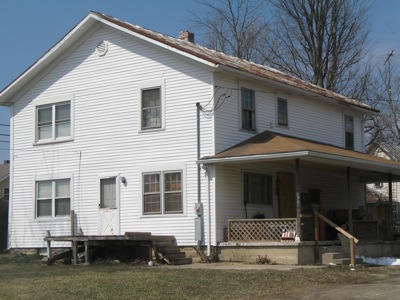 UNION CITY - People in Union City paint conflicting pictures of two young men charged in connection with the November 2011 murders of Robert and Colleen Grube.
Trevin M. Sanders, 18, and Bryant L. Rhoades, 22, who grew up in the town straddling the Ohio-Indiana state line with income levels below the state average, are now behind bars. Both have had numerous run-ins with authorities.
Sanders, incarcerated since October at the Indiana State Prison in Michigan City on charges of theft and receiving stolen property not related to the Fort Recovery murders, faces 27 counts in the Grube case, including aggravated murder, aggravated burglary, aggravated robbery, theft and kidnapping by restraining the victims.
Rhoades is in the Mercer County Detention Facility on a charge of obstructing justice by hindering investigators with false information in the murder case.
Pamela Young, whose daughter dated Sanders, said he used to come over a lot when they lived on the other side of town.
"He ran with the wrong group of people ... definitely a follower and not a leader," she said. "I encouraged him to straighten up and get a life."
Sanders appears to have had no permanent address - occasionally living with his mother on the Indiana side of Union City and then moving in with a sister on the Ohio side.
He attended Union City Community High School in Indiana from January through June 2010, according to a guidance counselor there. After being incarcerated at the Pendleton Juvenile Correctional Facility, a maximum-security facility in Pendleton, Ind., he reportedly took classes through a program with nearby Providence Junior-Senior High School. Upon his release in May 2011, Sanders attended classes at Mississinawa Valley High School for three weeks before getting into more trouble, according to superintendent Lisa Wendel. He did not graduate.
Detective Chad Puterbaugh of the Union City, Ind., Police Department said his office handled incidents involving Sanders when he was a juvenile. Puterbaugh would not release any details.
Union City, Ohio, Police Chief Jeff Baird was not available for comment, but an officer answering the phone at the department said authorities were "very, very familiar" with both men.
Amy Gambill and her boyfriend, Teddy Hunt, talked about how both men often stayed at their house and even babysat for their two daughters on occasion. Neither had regular jobs, they said.
"Trevin never fights, and he has a tender heart," Gambill said.
Hunt said he tried to help Trevin after he got out of juvenile detention.
Both claim if the young men came to their door, they would invite them inside without hesitation despite the charges they now face.
The Rev. David and Deloris Cleveland befriended Rhoades, who lived across the street in the small hamlet of Hillgrove, a stone's throw from Union City off state Route 571.
"We tried to help him," Deloris Cleveland said. "As a Christian, you never turn away someone who is hungry."
The couple said they and fellow members of Hillgrove Federated Church gave Rhoades food, clothing and money for heating fuel. The Clevelands said they were surprised when an active methamphetamine lab was discovered at his home last year.
On Jan. 3, 2012, personnel from the Darke and Mercer County sheriff's offices and the Ohio Bureau of Criminal Investigation and Identification arrested Rhoades and four other suspects for illegal manufacture of drugs.
Rhoades, who has prior convictions for theft/grand theft of a motor vehicle, drug abuse and possession of drug paraphernalia, was sent to the Monday Correctional Facility in Dayton and later placed on community control sanctions after failing to complete the residential program. Darke County court authorities had issued a warrant for CCS violations prior to his arrest in connection with the Mercer County case.
Young's son, a member of a band that plays at bars throughout the Mercer County area, said Rhoades often came to practices and tried to borrow money. He also said Rhoades often got into fights, specifically recalling a fight at St. Henry Nite Club.
St. Henry Police Chief Bob Garman confirmed authorities were called to the establishment the night of April 3, 2011, for a fight involving Rhoades. No criminal charges were filed due to conflicting accounts.
His Facebook page lists employment at a pallet factory in Versailles and a produce business in Bradford. He told Celina Municipal Court Judge James Scheer last week that he is no longer employed.
"Bryant came out here to work while he was at a juvenile facility," Rue Bowman of Bowman Produce said. "He had a lot of issues, but we didn't have any problems with the work he did."
The Mississinawa Valley superintendent said Rhoades earned a diploma in 2010 through an alternative program.
Rhoades is scheduled to appear Friday in Celina Municipal Court for a preliminary hearing. The proceeding will determine whether there is sufficient information to transfer the case for presentation to a grand jury.
Paperwork has been filed to bring Sanders to Mercer County, where his case will first go to juvenile court since he allegedly was a minor at the time of the crime. If a decision is made to try him as an adult, the case will be presented to grand jurors with resolution coming in Mercer County Common Pleas Court.