Tuesday, April 9th, 2013
4-H funding unchanged from state
Legislators vow to support program
By Shelley Grieshop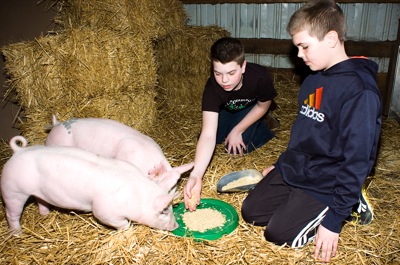 CELINA - State funds for the coming year will remain flat for 4-H club programs and research in agriculture, food and the environment.
Ohio Sen. Keith Faber, R-Celina, on Monday told local officials that funding for fiscal year 2014-2015 for Ohio State University Extension's 4-H programs and the Ohio Agricultural Research and Development Center will total $55.3 million, according to Gov. John Kasich's budget proposal.
Legislators typically add more dollars to such programs before the budget is signed by the governor, Faber said.
"The House plans on increasing it, probably the Senate will, too," he said. "It shows the priority we have."
Both branches added money in 2012. No cuts are slated from last year's appropriations.
The OARDC, which alone will receive $33.1 million, focuses on topics such as water quality including phosphorus woes in waterways, nutrition, crop diseases and waste management.
Faber spoke during a legislative luncheon where several testimonials were given to convince Faber and fellow legislator Jim Buchy, R-Greenville, the need for continuous funding of 4-H programs. It wasn't a hard sell; both voiced support throughout the meeting.
Joe Rose, 79, of Coldwater, displayed a trophy he earned in 1951 as a 4-H club member and explained that his five children and 16 grandchildren are following in his footsteps.
"I taught them all ... I hope they'll do the same with the next generation," he said.
He spoke of several club members he taught as an adviser. Several hold prestigious careers today such as Dr. Greg Homan, a leadership and agricultural professor at Wright State University-Lake Campus, Celina, and Dr. Doug Weitzel, who performs cancer research at Duke University in North Carolina.
Rose's son, also named Joe, is a 4-H club committee member and Philothea Hustlers 4-H club adviser. He also shared his thoughts about the program.
"Education does not always happen just in our schools," he said, while glancing proudly at his own two sons, Brandon, 14, and Devon, 12, who displayed trophies they had earned for swine and woodworking projects.
The younger Rose, also of Coldwater, said 4-H provides more than 800 children in Mercer County with valuable life skills, a civic duty and a sense of personal responsibility. Those traits are highly sought out by business owners like himself, he added.
Faber pointed out that it costs the state and local government about 75 cents per person to pay a child's way through the 4-H program. However, it can cost more than $75,000 to send one child through the juvenile court system.
"4-H is a valuable investment," he added.
Faber stressed that state funding must be spent locally in areas like Mercer County where agriculture revenues top all other Ohio counties.
"We want to spend those dollars in our districts, not in Columbus," he said.
County commissioner Jerry Laffin said not long ago there were four full-time OSU Extension workers in Mercer County; funding cuts left the office with the equivalent of one and a half employees. He hopes to get funds for one more to help strengthen the 4-H program.
"The extension is very important but 4-H is our top priority," Laffin said. "I've always said I will not cut out (the) soil and water (agency) or 4-H as long as I'm commissioner. I've got four more years."
Other county leaders, juvenile court staff, 4-H advisers and OSU Extension agents and officials from neighboring counties spoke about their 4-H club experiences and how it's helped them fuel enthusiasm in today's youth.
Buchy - one of only a few people in the room who did not participate in 4-H as a child - said 4-H programs need to be available to inner city children.
"We've started a 4-H pilot project in Cleveland and Cincinnati," he said. "We want those kids to have the opportunities that you have here."
Keith Smith, the state's associate vice president and director of OSU Extension, said 250,000 children across the state are in 4-H programs. Program volunteers save taxpayers about $50 million, he said. Smith said 4-H is near and dear to his heart. All eight of his children participated.
"It just gives them that good start," he said.