Thursday, July 11th, 2013
Major storm rips through area
Strongest wind reported 86 mph
By Betty Lawrence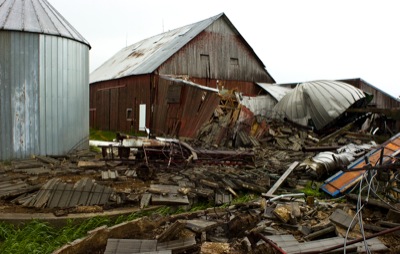 The powerful storm that ripped through Mercer and Auglaize counties Wednesday afternoon was akin to a weak tornado, reported Mike Kurz, a meteorologist with the National Weather Service in Wilmington.
Very strong straight line winds with gusts in excess of 70 mph raced through the counties at approximately 2 p.m., uprooting trees and taking down power lines.
"It was a quick moving storm that traveled to the east and southeast after leaving Mercer and Auglaize counties. The strongest wind reported was 86 mph, three miles west of St. Marys," Kurz added.
Storm rainfall was near a half inch, according to local weather forecaster Dennis Howick.
DP&L crews, with assistance from crews that arrived from Indianapolis and Tennessee, worked throughout the night to help restore power to 48,500 customers impacted by the storm, reported Tom Theham, director of operations. Nearly 700 people were in the field working during the night, he added.
Crews were to work throughout the day today to replace 10 power poles along 66A, north of New Bremen in Auglaize county.
"We serve parts of 24 counties and as of this morning, we currently have 6,300 customers without power and 57 of them are affected by the lines down on 66A," Theham added. No injuries were reported.
Matt Berry, of Midwest Electric, reported nearly 3,500 customers were without power at the peak of the storm, from Fort Recovery to Lima, due to downed tree limbs and power lines.
"That's about a third of our customers, but almost everyone was back on by 10 p.m. last night," he said.
In Mercer County, EMA Director Mike Robbins said he had received a confirmed report of 71 mph wind gusts.
"Damage was pretty widespread in the county, lesser so in the very northern part," he said, adding there were no reported injuries.
"A severe storm warning went out about a half hour before the storm hit, and I think people heeded that warning," he said.
Celina Fire Chief Doug Wolters said his department responded to Hoover's Trailer Court in Celina during the storm after a caller reported a tree had fallen and that she was trapped in her trailer.
"The tree had fallen in front of her door entrance and we just had to move the tree. Luckily, the occupants and the trailer itself were not hurt," Wolters said.
The department also responded to a report of a building collapse at Paul's Mini Mall on Fayette Street in Celina.
"A back cement wall between the Mini Mall and the building beside it had partially collapsed. There were no injuries," Wolters added.
Large tree branches lined most curbs this morning in St. Henry where storm damage was evident on nearly every block.
"It kind of looks like a forest everywhere," village administrator Ron Gelhaus said.
Shingles were ripped from rooftops and left lying in many yards. Trees fell onto or leaned up against several homes but did little structural damage, he said. One tumbled to the ground on Sycamore Street, ripping power lines from poles near the town's council chambers.
"The street was closed for about three hours," Gelhaus said.
Police Chief Bob Garman on Tuesday said he saw trampolines twisted and boats and campers flipped upside down.
"It looked like a war zone," he said.
When the storm moved through about 2:30 p.m., he couldn't immediately leave the police station; a radio tower near the building had fallen and was blocking the garage, he said.
Swimming pool manager Kurt Huelsman said he had closed the facility about 10 minutes before the storm hit.
"We heard thunder and everyone cleared out. It moved in so fast," he said.
He was happy to learn that everyone - especially the children leaving the pool on bike or foot - made it to their destination safely.
"We got pretty lucky," he added.
Local American Red Cross Director Deb Hemmelgarn, a St. Henry resident, headed for the basement with her children as the storm approached.
"All of a sudden it was like 'wow!' Debris was flying everywhere," she said. "We could see stuff flying past the windows."
Mercer County Dispatch, manned by seven people, handled 120 calls in the first hour of the storm, noted Mercer County 911 Administrator Monte Diegel. No storm-related traffic accidents were reported.
Diegel also said MSERV was doing traffic control this morning on state Route 49 between Fort Recovery and St. Anthony after power lines came down on the road.
Celina Safety Service Director Tom Hitchcock noted nearly 10 percent of Celina was without power due to tree limbs on power lines during the height of the storm.
"Crews went out right away and power was restored to everyone by 6 p.m.," he said, adding that residents can place their downed tree limbs and brush by the curb for pickup.