Monday, August 26th, 2013
Regatta roars back to Grand Lake
Racers say event remains favorite of circuit tour
By Eric Adams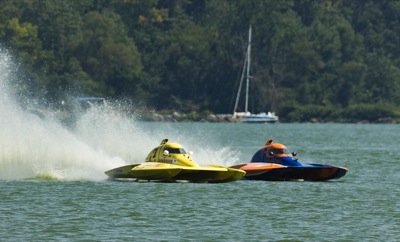 CELINA - Low water levels, algae toxins and funding concerns are a lot for any lake event to contend with over a four-year period. But two arguably greater forces were at play during the 2013 Governor's Cup Regatta: hospitality and positivity.
Racers reported the weekend-long regatta remains one of their preferred American Power Boat Association events despite cancellations in 2010 and 2012, with many traveling great distances and planning their attendance months in advance.
"The town is 100 percent for the race, which makes it very enjoyable to come," said Kevin Kreitzer of Dayton, who has raced powerboats for about a decade. "We come out ... get to meet the crowd (and) they're as enthused to be here as we are."
Kreitzer also cited improvements to the racing facilities in recent years, the most noteworthy being new boat docks.
"They've re-designed this whole area, it's come a long way," he said. Kreitzer has a lifelong familiarity with Grand Lake; his father started racing the regatta in 1964.
His team member, Keith Fickert, also of Dayton, echoed sentiments regarding Grand Lake's accommodations.
"Some of the other races we go to, it's just racing," he said. "These guys have more - bands, music, vendors ... they do it right."
Fickert added that a few of his friends on the APBA circuit tentatively left regatta weekend open, even after organizers announced the race's cancellation in mid July.
"The problem earlier, where they had the lack of money was very disappointing," he said. "It was like Christmas when we found out that (organizers) were gonna be able to put it on."
Dutch Squires, a 37-year racing veteran from Denver, Colo., commended the efficiency with which the regatta is run.
"They get the boats in and out of the water; you're not waiting around forever," he said. "It's a well-organized race."
Squires travels an estimated 25,000 miles every year to races in Louisiana, Idaho, Maryland and Michigan. He said he enjoys the regatta at Grand Lake because the competition is generally more challenging than what he sees at many races in western states.
"Instead of having two or three, here they have five or six (boats) that are really competitive," he said.
Tim Lovett, president of the Lake Improvement Association, said the 2013 Governor's Cup fully met expectations.
"It's been a very good turnout. You see a lot of people through here, not only on the land but a huge amount of boats on the water watching the race," he said.
Lovett suspects regatta attendance has felt a slight negative impact from the various adverse conditions of recent years, but no formal figures confirm this.
"I think one of the things this year was the (initial) cancell-ation and then regrouping," he said. "(But) if you look around the shoreline, there are a lot of people ... in terms of spirits and attitudes, it's been awesome."
The LIA contributed $20,000 to the Governor's Cup in mid July, roughly one week after cancellation was announced. It was part of a $39,000 cash infusion from other local businesses and organizations that resurrected the event.
Other indicators of success include a local vending station, sponsored by the Celina Girl's Softball team, which had to replenish inventory Saturday with an unanticipated grocery store visit.
"It has been wonderful; this was a very successful event for us," said Cindy Piper, a Celina school board member who helped organize the team's fundraising endeavor.
Lake Restoration Commission Manager Milt Miller confidently announced Sunday that the regatta will continue to be a fixture at Grand Lake.
"I guarantee, with all our combined efforts, we will be racing again next year and every year thereafter," he said during the awards ceremony.