Saturday, September 7th, 2013
Indians are now 2-0 after blowout victory
By Gary R. Rasberry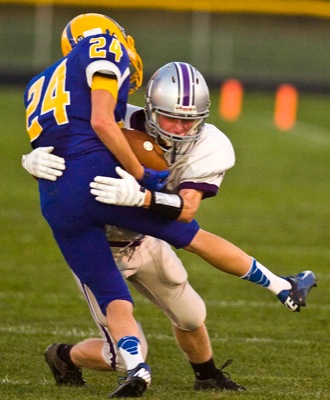 WAYNESFIELD - Fort Recovery's offense took over the middle two quarters and the Indians rolled to a 54-0 victory over an undermanned Waynesfield-Goshen team.
It's the first time the Indians (2-0) scored 50 or more points since Sept. 4, 2009 when Fort Recovery defeated Oregon Cardinal Strich 56-7 at Barrenbrugge Park.
After using an end-around option where receiver/backup quarterback Mitch W. Stammen hit starting quarterback Darien Sheffer for a 45-yard score in the first quarter, the Indians dominated the next two quarters.
Sheffer called his own number on a reverse bootleg for a score to make it 14-0 shortly after the start of the second quarter. After a trading of punts, Stammen recovered a fumble at midfield. Three plays later, Sheffer hit Kyle Schroer for a 45-yard scoring strike to make it 20-0. On the ensuing kickoff, the Tigers fumbled again and David Trobridge recovered. This time, Kyle Timmerman took five straight handoffs for paydirt to make it 27-0 at halftime.
"We were able to hit people," said Indians coach Brent Niekamp. "They (Waynesfield) stacked everybody inside to try and stop us from running the ball. Those passes downfield were open and we were able to hit some people at times."
In the third quarter, after Fort Recovery punted on its opening series, Waynesfield quarterback Lake Turner looked downfield, but Evan Schoen snagged the interception and took it to the Tigers' 39-yard line. A facemask personal foul added 15 yards for Fort Recovery and three plays later Cole Hull rushed for a 20-yard TD for a 34-0 Indians' lead.
Another interception on the next series set up Fort Recovery for another TD before the end of the third quarter. Sheffer returned the favor to Stammen, hitting his fellow signal caller for a 29-yard scoring pass to make it 40-0.
After a Waynesfield punt, Schroer snagged his second scoring pass of the night, connecting on a 27-yarder from Sheffer to make it 47-0. Cole Dues added the final score in the fourth quarter on a 23-yard run.
Fort Recovery's defense held the Tigers' offense to just 108 yards and eight first downs.
"We just had to make sure, especially on defense, that we were aligned correctly and fundamentally sound to keep those guys bottled up," said Niekamp. "They definitely have some kids who can run."
The one thing that Niekamp was not happy with were the penalties. The Indians were flagged eight times for 80 yards with six penalties going for 10 or more yards.
Sheffer was 8-of-14 passing for 110 yards and Timmerman reached the century mark on his last carry, finishing with 101 yards on 18 carries. Schroer had three catches for 80 yards.
Fort Recovery opens Midwest Athletic Conference play next Friday with a road trip into Shelby County to face the Anna Rockets.