Wednesday, November 20th, 2013
Albers unseats Bettinger for seat on soil and water conservation board
By Nancy Allen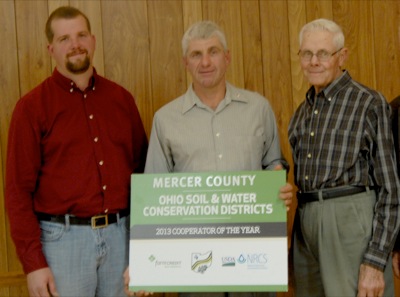 COLDWATER - Celina area farmer Dale Albers unseated incumbent board member Kevin Bettinger of Coldwater in a vote at Tuesday's annual Mercer County Soil and Water Conservation District banquet and annual meeting.
Albers, 43, is a machinist and farms roughly 280 acres in Mercer and Auglaize counties. He grows soybeans, corn, wheat and hay and raises 20 to 30 angus cattle steers a year with help from his father. Albers lives in Jefferson Township, just east of Celina.
Bettinger was seeking his third, 3-year term on the soil and water board.
Awards and a scholarship also were handed out during the banquet and meeting.
Dan, Lavern and Steve Wolters received the Outstanding Cooperator of the Year award. The family farms about 350 acres of corn, soybeans, wheat and hay. They no-till and strip-till all of their cropland and annually finish out 1,000 hogs and 300 steers.
The Wolters have installed manure storage, cover crops and covered feedlots using federal conservation dollars from the Environmental Quality Incentives Program. They also have edge-of-field water monitoring stations on their land and have planted vegetation for quail and other wildlife and grass filter strips.
The Wolters' farm operates under a comprehensive nutrient management plan.
Steve Wolters said he believes more interaction between farmers and lake enthusiasts is a positive step because it allows each to see the other's perspective.
The Lake Erie Conservation Reserve Enhancement Program award went to Kahle Farms. Accepting it were Tim and Tony Kahle. The family farms land in Mercer, Van Wert and Allen counties, raises 300 head of steers and finishes out 1,000 hogs. They also grow corn, soybeans and wheat.
The Kahles have installed on their land filter strips, grass waterways, wetlands and windbreaks, all conservation practices designed to lessen soil erosion.
Parkway High School senior Rachel King, the son of Mike and Ann King, Rockford, received a $1,000 scholarship from the Mercer SWCD and Marion Mutual Insurance Association. King plans to attend either the Ohio State University majoring in agricultural business or agricultural systems management or Wilmington college majoring in agricultural production.
King participates in FFA, softball, is a member of the National Honor Society and the yearbook staff, and works at the family's farm market.
Awards also were given to students who won this year's county soil judging contest at the Dennis and Phyllis Wenning farm west of Coldwater. Johanna Hartings, the daughter of Jeff and Joyce Hartings, won the rural portion of the contest. Hartings is a senior at Marion Local High School. Zach Tobe, the son of Willy Tobe and Della Rockwell won the urban portion of the contest. Tobe, a junior at Fort Recovery High School, won the rural portion of the contest last year.
Mercer SWCD engineer Theresa Dirksen gave a presentation on tile replacement projects. She and district technician Matt Heckler assist landowners with two or three Senate Bill 160 projects per year.
County soil and water conservation districts have the authority to compel landowners to participate in Senate Bill 160 tile replacement projects if there is sufficient support by area landowners and if the benefit outweighs the cost.
The SWCD holds hearings, creates the plans and oversees the landowner funded projects.
Old, broken down tile can create dangerous suck holes in farm fields, wash away soil and hinder drainage, Dirksen said. The SWCD office is working on two tile replacement projects totaling 4.5 miles. Three similar projects are on a waiting list, she said.
Dirksen said each tile replacement project takes an average of 300 hours, equal to 30 percent of Dirksen and Heckler's work time each year. During the past seven years, individual landowner assessments have ranged from $27 to more than $100,000, she said.
During the past year, the SWCD office assisted with numerous soil conservation and manure management projects in the county totaling $4.03 million.