Thursday, April 3rd, 2014
New group strives to fill area jobs
By Shelley Grieshop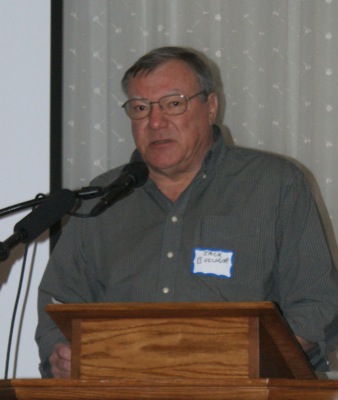 CELINA - A new organization of business leaders wants to match employers with youth seeking careers.
One of the first tasks of the Auglaize/Mercer Business-Education Alliance is to gather pledges from members to fund a new, full-time outreach coordinator position. More than $50,000 has been raised, according to alliance member Jack Buschur of Buschur Electric in Minster.
"We feel the business community needs to step up," he told a large crowd Wednesday at the fifth annual Mercer County Community Development Spring Breakfast Forum in Celina.
Buschur lauded the work of county economic development director Jared Ebbing and the Hometown Opportunity website for helping link local businesses with high school and college students, as well as adults, seeking jobs. But he stressed it's time for employers to quit relying on public dollars and take action.
"County commissioners and taxpayers have done enough," he said. "We need to have skin in the game."
Buschur said the mission to find quality employees is a good investment for all businesses.
"Our people are the best assets we have," he said.
The goal of the outreach coordinator will be to learn what types of employees are needed in the area and bring students - as young as eighth-graders - to job sites for hands-on work experience, Buschur said.
The nonprofit group is asking area businesses for three-year funding commitments to pay the salary and benefits of the new coordinator. Buschur said they hope to fill the position by June.
Newly elected AMBE Alliance officers are president Sean Dorsten, vice president Jerry Meyer, secretary Jack Staugler and treasurer Pat Butler. The group also has several trustees.
Ebbing spoke to the audience about the ongoing success of the Hometown Opportunity website where businesses can post detailed job openings for prospective workers of all ages. The goal is to steer students and adults "toward the appropriate education and/or training that can lead to a career" in the Grand Lake area, the website states.
"We've had over 2,000 excellent jobs posted in about a year," Ebbing said, adding the website has increased awareness of what the local area has to offer. "If you want a career - besides maybe paleontology - it's here. ... We have some awesome companies in this area."
The site has 330 jobs posted and has garnered 54,324 unique visitors in its first year, he added.
Fort Recovery High School Principal Jeff Hobbs was accompanied to the forum by four seniors from his district who spoke about their work experiences, job shadowing and prospective careers. One of the students, Reece Grieshop, spent time working on a hog farm before deciding it wasn't the job for him.
"Kids can spend a lot of their mom and dad's money (for higher education) before they decide it's not what they want to do," the principal said, explaining the value of on-the-job experience at an early age.
A pair of Tri Star Career Compact teachers - Janet Nelson of the Med Prep program and Don Berry of Career Based Intervention - also took the mic with several students who discussed work experiences. One of Berry's students, Celina senior Hayden Abels, is training for a career at Minster Machine.
"It's a great opportunity," Abels said. "I don't have to go to college. It's not for me. ... I'm already on my way to my future."
Brian Styer, employee relations manager at Minster Machine who attended the forum, said Abels is "selling himself short."
"He doesn't consider it college but he is going through hundreds of hours of college classes. He may not have an actual degree when he's done but he's getting training and education," he said. "Learning never ends."
Styer said students like Abels who get up before school every day to milk cows have the work ethic and attitude businesses want.
Wednesday's forum drew hundreds of business leaders, county commissioners, mayors, educators and elected officials from Mercer, Auglaize and Darke counties.