Wednesday, August 13th, 2014
Alpacas have their day at Mercer County Fair
By William Kincaid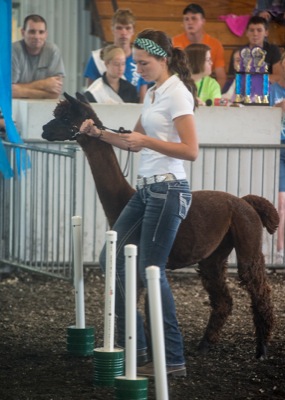 CELINA - Furry-fleeced alpacas made their debut at the Mercer County Fair on Tuesday afternoon.
Organizers intend to make the two-class competition of the domesticated, long-necked creatures an annual event at the fair.
"Last year we had some kids ask about showing them and I said 'sure we can show them!' "
said Barb Phares, Ohio State University Extension educator and 4-H youth development director. "We were really happy we had six of them just to start with."
The show was a learning experience for handlers and judges. The young contestants were lauded for their courage in choosing to participate in the first-ever event.
The six alpacas, ranging in gender and fur colors of white, grey-ash, black and brown, were individually led by their exhibitors into the Coldwater Young Farmers Arena for the obstacle course class, which tested the animals' agility and adherence to commands.
The animals - natives of South America - weaved in and out of a series of four white poles, attempted to put all four of their feet into a hula hoop, jumped over a beam and were guided forward and backward between parallel lines.
Handlers were instructed to guide their animals with only a light touch. Some of the animals heeded commands, while others stubbornly resisted some maneuvers, pulling back against the leash and leaping into the air.
The elongated-necked, sheep-like creatures at times were distracted by the audience. They also weren't amused when judges attempted to assess and inspect their teeth (they have only a bottom set) and hooves.
For the showmanship class, the six alpacas were evaluated on control, response to commands and other benchmarks.
At the end of
the day, victory went to the brother and sister team of Riley and Whitney Will of the Fort Recovery Barnyard Boosters 4-H Club. Riley Will won the obstacle course and Whitney Will took showmanship.
The pair said they had trained their animals for five months.
According to Phares, alpacas are a very old breed of animals. Alpaca fiber is considered a luxury in the textile trade because it is lightweight, warm, as soft as cashmere and contains absolutely no allergens. It can be spun into yarn to make a wide variety of products such as sweaters and Teddy bears, and can be knitted, crocheted, woven, worsted or felted.
Alpacas, according to one local handler, are "earth friendly." With only bottom teeth, they do not destroy the grass in the pasture and can't chew fencing. Their padded feet also are gentle on pasture land. Their simple diet consists of pasture grass, hay and a mineral supplement provided by owners.

Mercer County Fair schedule:
Today (Kids Day)
• 3 p.m. - bubble gum blowing contest (entertainment tent), Mama's Wranglers (junior fair tent)
• 4 p.m. - mom calling contest (junior fair tent), cupcake decorating contest (entertainment tent)
• 5:30 p.m. - Mama's Wranglers (junior fair tent)
• 6 p.m. - open steer/heifer/feeder calves show (Adrian Debrosse Arena), what not to wear fashion show (entertainment tent)
• 6:30 p.m. - frog jumping contest (junior fair tent)
• 7 p.m. - high school band show (grandstand)
• 7:30 p.m. - Skidsteer Rodeo (horse arena), make a fan craft (entertainment tent)
• 8 p.m. - Mama's Wranglers (junior fair tent), Saw Creek Band (beer garden), flamingo ring toss (entertainment tent)
• 9 p.m. - auction of Bear Hollow Wood Carvers' masterpieces (beer garden)

Thursday
• 8 a.m. - gates open, admission charged
• 10 a.m. - Best Celebration Ever (entertainment tent); horse award presentation banquet (horse arena announcer's tower)
• Noon - Mama's Wranglers (junior fair tent)
• 1 p.m. - horse fun show (horse arena)
• 2 p.m. - Crazy Craig Muhlenkamp (entertainment tent)
• 3 p.m. - games and rides open; livestock auction (Adrian Debrosse Arena and Coldwater Young Farmers Arena)
• 5 p.m. - Zach Morgan (junior fair tent); watermelon seed spitting contest (entertainment tent)
• 6:30 p.m. - Professor Bubblemaker (junior fair tent); fashion show (entertainment tent)
• 7 p.m. - Tough Truck (grand stand)
• 7:30 p.m. - power wheel derby (grand stand); The Fire Junkies, flame throwers (grandstand)
• 8 p.m. - En Pointe Dance (junior fair tent); Pegasus (beer garden)