Thursday, December 4th, 2014
Cooper Farms, Weaver Brothers buy Perham Egg
By Nancy Allen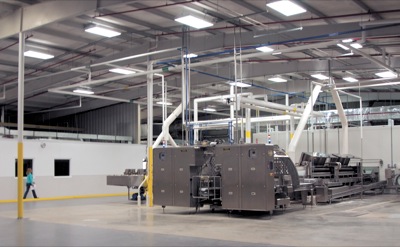 FORT RECOVERY - Cooper Farms and Weaver Brothers of Versailles have purchased Perham Egg, an egg-breaking facility that began operating in July on Wabash Road.
The facility's name will be changed to CW Egg Products LLC, Gary Cooper, chief operating officer at Cooper Farms, said on Wednesday. The plant produces liquid egg products.
"We will co-own it with Weaver," Cooper said, adding the only change at first will be a new sign. "They have everything up and running."
Cooper said in time more value-added products will be included in the liquid egg stream already at the facility. A high-tech process is used to slice open eggs and separate egg whites from yolks to produce three products: mixed white and yolk, all white and all yolk.
"There are large 7,000 gallon tanks where two different liquid egg streams are kept," Cooper said. "Then we can either mix them back together for clients or keep them separate."
Cooper said more employees may be needed in about a year and a half. The plant employs about 45 people.
"There are plans for additional chicken layers to provide more eggs over the next 18 months," he said. "As that happens, there will potentially be a need for more people to handle that stream."
Established in 1929, Weaver Brothers produces and processes shell eggs, produces grain and operates a feed mill. Started in 1938, Cooper Farms produces turkeys, hogs and chicken eggs and purchases grain to make feed, according to its website.
Eggs have become more popular with consumers in recent years due to many restaurants' adding breakfast meals with eggs and egg sandwiches to their menus. The egg white industry in particular has really boomed, said Tim Weaver, president of Weaver Brothers, who called eggs nature's purest form of protein.
"Protein diets are vogue and the health community has determined they are healthy for people." he said. "The fast-food industry has recognized that eggs are a good value. You go to Starbucks or Dunkin' Donuts and they all have breakfast sandwiches."
Weaver said leadership teams from Cooper Farms and Weaver Brothers will begin learning the process at the egg-breaking facility. His company had been looking for a way to become involved in the liquid egg industry for some time, he said. The Perham purchase provided that opportunity, Weaver added.
"When this opportunity arose, we found that Cooper and Weaver were like-minded and feel that their family and business philosophy are very similar to the Weaver family's and it turned out to be a good opportunity for both businesses," he said.
Weaver Brothers is in the process of expanding contract egg production to supply the egg-breaking plant, Weaver said, adding that the company is close to signing contracts with farms in western Ohio and Indiana.
Weaver Eggs sells most of it shell eggs in the Southwest, Southeast, Midwest and mid-Atlantic regions of the United States. Eggs are marketed to a diverse group of customers, including national and regional grocery store chains, club stores, food service distributors and egg product manufacturers, information from the company's website states.
Bernie Boyle, Perham vice president of manufacturing, said it is not the company's normal approach to open a facility and sell it quickly.
"We were in the business and trying to locate chickens, laying hens to support the second line we wanted to get started here and it kind of happened," Boyle said of the sale.
This is the second purchase for Cooper Farms in less than four months aimed at strengthening the company's egg division, its smallest branch after turkeys and hogs. In August, Cooper Farms purchased Fort Recovery Equity Exchange, a previously member-owned cooperative producing eggs and young chickens in Fort Recovery.