Monday, March 23rd, 2015
Lake Campus expanding
Five local projects part of $150M fundraising campaign
By David Giesige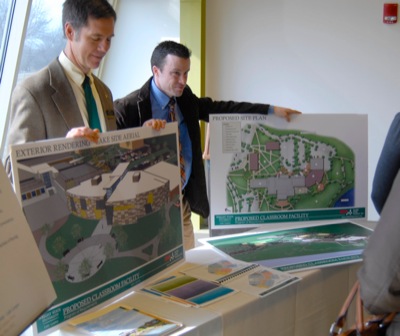 CELINA - Wright State University officials are getting closer to achieving a fundraising goal of $150 million to pay for major projects at the Dayton and Celina campuses.
At Lake Campus, plans call for the creation of new athletics and recreation complex with an all-turf baseball stadium; a connector building uniting Trenary and Dwyer halls; a water quality institute; an advanced manufacturing center; and an agribusiness and food science program, Lake Campus Dean Bonnie Mathies said Sunday.
Mathies said officials have not prioritized the local projects nor created a timeline for completion. However, finding space will not be an issue.
To accommodate the expansion, Wright State recently acquired 38 acres adjacent to the campus, which serves more than 1,200 students.
Wright State University President David Hopkins Sunday detailed the fundraising drive to board members, donors, faculty and staff at a regional launch party in James F. Dicke Hall. Hopkins focused on an important university milestone and how he plans to capitalize on the moment.
"In 2017 we will be celebrating the 50th birthday of the Dayton campus," an enthused Hopkins told the crowd of more than 30 people.
Officials hope the "Rise. Shine. Campaign," which began in October, will raise a combined $150 million for capital improvements at both the Dayton and Celina campuses by the anniversary, Hopkins said.
"So far, we have raised $112 million for the campaign," Hopkins said, pointing out more than 27,000 individuals have donated.
Campus improvements, he said, will not lead to tuition increases.
Hopkins and Mathies announced together that the university had reached a deal earlier this week with neighboring property owners to purchase 38 acres adjacent to the campus.
"They normally say the best is yet to come, but now the best has come. We were really hurting for space," Hopkins said.
"This is prime real estate allowing us to grow and expand for years and years to come," he said. He declined to reveal the purchase price.
The new athletics complex represents a growing optimism among campus officials.
"We hope to see our athletic programs grow as the campus continues to grow," housing and athletics coordinator Trent Kline said.
The complex does not indicate the campus plans to end its relationship with the adjacent YMCA, he stressed. Instead, Kline said he hopes to see the facility bring a variety of sports such as golf, volleyball and softball to the campus.
The baseball stadium should generate revenue through camps and tournaments, Kline said.
The connector building, expected to cost $12 million, will help alleviate "an acute need for more learning space," Mathies said. The additional space would house a new library, a career-planning center, a theater-style meeting room, a nursing simulation lab and classrooms for the business and engineering programs.
The water quality institute will provide students the unique opportunity to work with an issue that affects more than just Grand Lake St. Marys, Mathies said.
"Lake issues are not unique to Grand Lake, as we saw last year with the issues in Toledo," she said.
Mathies explained the institute will look for ways to identify and reduce stressors on Grand Lake, develop entrepreneurial funding to create restoration tools and collect and disseminate research related to inland lakes and stressors.
The advanced manufacturing center will feature a robotics teaching center. It will be developed with local partners to spur growth in technology and manufacturing throughout the area, Mathies said.
According to a press release, advanced manufacturing jobs are leading economic sectors in West Central Ohio.
Similarly, the agribusiness program will help train students in a field vital to the area. The program will benefit from having state-of-the-art facilities, equipment and materials, a press release said. The program will combine traditional classroom learning with lab and field experiences.
No cost estimates had yet been set for the other projects, Mathies said.
In addition to the projects, Hopkins said the campus will continue to add on-campus housing as needed.