Thursday, January 14th, 2016
Dog custody fight moves to appeals court
By Claire Giesige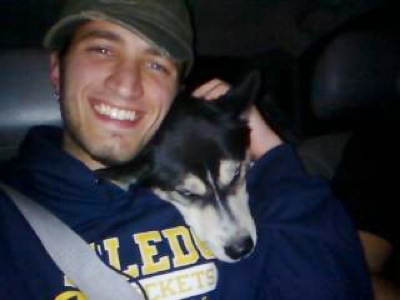 CELINA - A loose dog complaint has turned into a custody battle in the Third District Court of Appeals in Lima.
The Mercer County Dog Warden on Nov. 21 caught the dog, Suka, who had broken free from her chain. The warden turned the Siberian husky over to the Animal Protection League of Mercer County after she went unclaimed, court documents show. Owner Carl Green, 24, Rockford, had reportedly failed to renew the dog's license since 2013.
On Dec. 6, Green became aware the league had his dog and contacted the group, giving proof of ownership. At that time, he was told the dog was in foster care and he would have to apply to adopt her, court records show.
He successfully filed a stay action, seeking the dog's return, on Dec. 16 in Celina Municipal Court.
"The dog had not been adopted out at that point. It could have been returned to him at that time," judge James Scheer wrote in his decision.
However, the dog was not returned to Green and instead was adopted by Lori Winner, 57, New Bremen. The adoption took place after the stay action had been filed, though the judge noted the APLMC did not receive written notice of the order until after the adoption.
Scheer ordered on Jan. 5, that the dog be returned "to its rightful owner," Green, who proved he had been Suka's legal owner since 2011.
Scheer wrote that while the APLMC does good work and fulfills a need, "they do not come into court with clean hands."
"There was no good and legal reason not to return and/or let him adopt it over others. Now the court's time, attorneys' time and expenses, participants' expenses have been needlessly and unnecessarily expended when it should not have occurred," the decision stated.
The dog has since been returned to Green. However, the action has been appealed by Suka's former foster owner.
Winner, a volunteer at Mile Creek Animal Hospital where Suka received treatment while under the care of the APLMC, filed an appeal Jan. 5 to overturn Scheer's decision.
"I am concerned how this ruling is going to affect dog rescues around Ohio and for public adoptions from dog pounds," Winner said in a prepared statement. "It appears we can't be protected by the law. The APLMC and the Mercer County Dog Warden followed the law, yet the ruling went against what is stated by the Ohio Revised Code. If the law is not followed and dogs are adopted out from dog pounds and rescue organizations, then months later an owner shows up, the general public may be hesitant to adopt stray dogs in need. The euthanasia rate of these dogs will increase,"
Green works as a behavioral health case manager at Foundations of Celina and is a part-time Rockford police officer. He also volunteers as a Parkway junior high and peewee wrestling coach.
He said he initially did not inquire at the warden's office about his missing dog because the energetic Suka had gotten loose before.
"She has gotten out before but it's not something that happens often," Green said. "Over the course of five years, she had pulled out of collars, leashes, things like that. Huskies like to run so it made it difficult. She always came back, she just visited with the neighbors' dogs and came back. It was never a big deal."
He said he did seek help from the Rockford Police Department and friends. He added he located Suka after a friend saw her picture on Facebook. Apparently, Suka had gotten loose from her foster family and the person who found her had posted her picture, Green said.
At that point, Green said he contacted the person who found Suka only to find the dog had been returned to her foster owner. After contacting the APLMC, Green was told he would need to apply and pay a fee to be considered for adoption.
"I just felt that only having a fraction of chance if they had tons of other applications, (court) was my best option," he said.
Suka, Green said, represents a special link to a deceased loved one, Shirissa Seibert.
"She was my high school sweetheart. We started dating when I was 15 years old. I dated her all the way through 2011. She passed away Nov. 9 that year in a car accident. It was a pretty rough time," he said. "I had bought Suka that February. We had gone and picked her up together. It's one of those things that still links me to her."
The thought of losing the dog if the appeals court overturns Scheer's decision is troubling, Green said.
"I am worried, especially now that I got her home again. Everyone was so happy to see her. You should have seen her reaction when we pulled up my driveway. She went crazy, she was extremely happy," he said. "To think that somebody might try to tear her away from that again is mind-boggling."
Winner, who also volunteers at the Animal Resource Foundation of Auglaize County, said she sympathizes with Green but is still concerned for Suka.
"I just feel bad all the way around. I just hope the dog's not outside right now," she said.