Monday, June 13th, 2016
Fort celebration starting to heat up
Hundreds turn out to dedicate veterans plaza
By Jared Mauch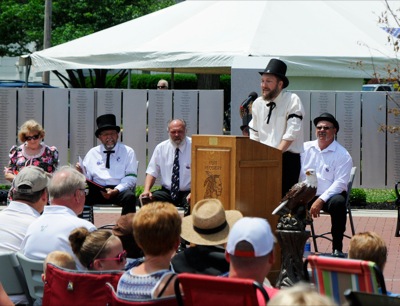 FORT RECOVERY - The village's quasquibicentennial - or 225th anniversary celebration - got off to a hot start on Sunday.
About 400 people braved the heat to hear opening comments from local and state representatives at the new veterans plaza on First Street.
After a countdown from the crowd, FR225 Committee members and village officials released 225 purple balloons with event schedules attached to commemorate the start of festivities.
The balloons will invite people far and wide to come celebrate with residents, FR225 Committee member Greg LeFevre said.
The balloons drifted southward upon release and LeFevre told the crowd he did not know where they might land.
Tori Vaughn sang the national anthem as Fort Recovery Boy Scouts Cameron Romer, Riley Pearson and Chris Knoth raised the flag.
Mayor Dave Kaup encouraged people to enjoy the week of festivities.
Officials also celebrated the opening of the newly completed plaza on the east side of Monument Park.
Fort Recovery Veterans Plaza Committee member Fred Jutte said the plaza had taken four years to fund and build. Construction began in July 2015 and ended earlier this year.
Fundraisers netted $185,000 to pay for construction, and village officials have agreed to pay the electric bill for lighting, he said.
The plaza is home to 1,383 veterans' names. Room was left for about 1,000 more names, but Jutte hoped the space would not be needed.
The crowd applauded veterans' service and held a moment of silence to remember armed forces members who had given the ultimate sacrifice.
"This is for you guys, so soak it in," Jutte said.
American Legion Post 345 Commander Don Link and VFW Post 6515 Commander Rick Loy also thanked the volunteer workers and veterans for their service.
LeFevre said he had seen about 20 people looking at names every time he had stopped at the plaza over the past few days.
Ohio Department of Natural Resources Director Jim Zehringer, a Fort Recovery native, read a proclamation from Gov. John Kasich honoring the 225th anniversary.
He also said Fort Recovery businesses Cooper Farms and JR Manufacturing provide goods and services across the nation.
State Rep. Jim Buchy, R-Greenville, encouraged attendees to continue to teach village history to the younger generations.
Former mayors John Wolf and Roger Broerman with current mayor Kaup and village administrator Randy Diller reminisced and looked forward to future developments. Volunteer work has always been important for community projects such as the jubilee and the plaza, Kaup said.
Not many of the more than 18,000 communities in the country have been able to celebrate a 225th anniversary, he said.
Wolf and Broerman spoke about village economic development with growth in the industrial park and elsewhere in the village.
Diller said about 50 percent of money raised during the jubilee goes to improve community parks.
Nancy Knapke of the Fort Recovery Historical Society recounted the battles that had occurred at the fort and the surrounding area shortly after the Revolutionary War.
The fort established a presence in the region that withstood multiple attacks from Native Americans, she said.
FR225 co-chairs Michele Dues and Jacque Leverette thanked the numerous volunteers and workers for their contributions.
Festivities include Taste of the Fort and beard and costume contests this evening on Brick Street; a wedding-style meal at the American Legion on Tuesday; a wine tasting and ag Olympics on Wednesday; and a youth re-enactment, softball tournament, duck races and time capsule burial on Thursday. The jubilee begins on Friday and continues through Sunday.