Thursday, July 21st, 2016
Larson rallies to pick up Truck win
NASCAR Camping World Truck Series
By Mike Ernst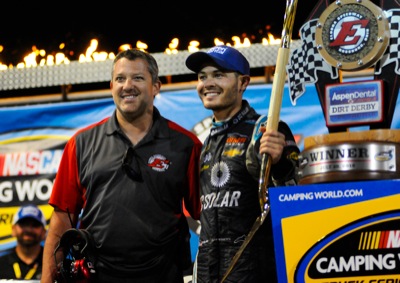 ROSSBURG - NASCAR Sprint Cup Series star Kyle Larson returned to Eldora Speedway on Wednesday night and captured the fourth annual Camping World Truck Series Aspen Dental Eldora Dirt Derby for the first time after narrow misses in the first two years of the event.
"I was really close the first two years and probably didn't drive very smart," Larson said of the near misses. "This was the best truck I've ever had here and made my job a lot easier and I think I am a little more mature as a driver."
Larson needed all that maturity as he nearly had this year's slip through his fingers as well. After having taken the lead from Bobby Pierce on restart on lap 34 and changing tires during the intermission after lap 40, Larson suffered a flat tire on lap 51. After spinning in turn four, much to the chagrin of NASCAR, Larson stopped on the front straightaway and was penalized a lap for intentionally bringing out the caution flag when he stopped on the track.
"I really didn't know if that was a penalty or not, but I wasn't really upset at NASCAR or anything," Larson said. "We were much better off getting the one-lap penalty than the green staying out and having to pit and probably losing close to five laps or so."
Larson received the "lucky dog" free pass and was put back on the lead lap when Cody Coughlin, Brandon Brown and truck points' leader William Byron crashed in turn four on lap 72.
Once back on the lead lap, Larson charged through the field. With only half of the 32-car field still on the lead lap, Larson used the remaining 18 laps of the second segment to work his way back into the top six.
On the first two laps after the restart to begin the last 60 lap segment, Larson moved from sixth to third and then moved into second place when defending race winner Christopher Bell slapped the wall in turn two on lap 100.
"Bell got a little high there and opened up the door. I had to take advantage of that because he was going to be really hard to pass," Larson said.
Larson again began to chase Pierce and received the break he needed on lap 110 when the caution flag was brought out for oil on the track. On the restart on lap 119, Larson dove to the inside of Pierce and into the top spot.
On lap 126, Larson slipped high in turn two and Pierce pulled even, but slid too high in turn four and made hard contact with the wall. Pierce limped his truck down the front stretch and then spun and crashed in turn one.
"He got a little too high and into the wall in two and I knew that was my chance," Pierce, who finished runner-up in 2015, said. "I thought it would stop sliding in turn four but as I slid through there and kept sliding, I knew I was in trouble. I had a great truck and if that caution didn't come out, I really think we had the truck to beat."
Larson was relatively unchallenged over the remaining 20 laps and won his second career truck race by 0.767 seconds over Bell and Rico Abreu, who survived early race trouble to pick up his career-best finish in third.
"I got into the wall there a little and that allowed Kyle by and he was a little bit better than us, so I knew I was probably in trouble," Bell said of his run just days after having competed in the Kings Royal last weekend. "It is really tough to run a sprint car around here for 30 laps up against the fence and these trucks are even tougher. It is a lot of fun but part of doing well in this race is survival. 150 laps is a long race around here."
Abreu, who had finished second to Donny Schatz in Saturday's Kings Royal, was happy with his third place effort, a finish that came after a heat race altercation with Travis Kvapil and going a lap down early in the event before charging through the pack in the final segment.
"I love racing here. It is my favorite track in the world," Abreu said. "We just kind of worked our way up there using the middle and bottom of the track. I was hoping for one more restart and maybe we could make some kind of banzai move on them. But we were a third place car so I am happy with that."
Jake Griffin finished a career-best fourth, while former Dirt Late Model competitor Tyler Reddick rounded out the top five. Cole Custer, Cameron Hayley, Daniel Hemric, Austin Wayne Self and Matt Crafton completed the top 10.
Larson ranks the win high on his list of racing achievements but says it is only his second best moment at Eldora.
"Sweeping the USAC portion of the Four-Crown Nationals in 2011 is still top on my list," Larson said. "Jack Hewitt and myself are the only ones to ever do that. This is pretty cool though and trust me I am going to hang onto this shovel (given to the winner)."
The next event on the Eldora schedule is the Monster Jam on August 5 and 6.