Friday, August 5th, 2016
Living a double life for his country
Coldwater native working in the CIA penetrates Taliban
By William Kincaid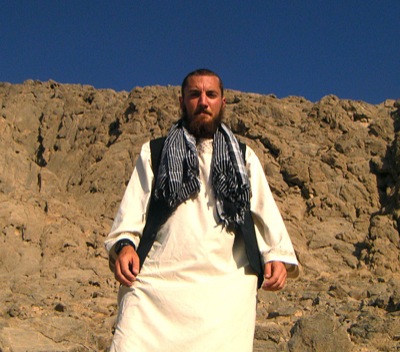 For a decade, Coldwater native Douglas Laux was living a lie, one born not out of delusions of grandeur but of necessity - to protect himself, his loved ones and his country.
With the exception of his older brother Ryan, Laux's family members and friends believed he was living in Hawaii and Washington, D.C., when he was actually working as a Central Intelligence Agency case officer, he said.
Just before the April release of his tell-all book, the 33-year-old Jay County High School graduate was finally able to disclose to his now-retired parents, Jerry and Kathy Laux, what he had been doing all those years. He was really training at the CIA's Langley, Va., headquarters in black ops and espionage and learning highly specialized skills and being deployed to the Middle East.
"If you're going into the line of work that I was going into, which is an undercover operative, you don't want anybody to know," Laux told the newspaper recently. "I'm not just in a war zone, I'm (expletive) deep cover in a war zone. I'm dressing like the Taliban every day."
To prevent compromising his work and to save his parents from the psychological burden of worrying about him, Laux kept his secret from almost everyone.
"My thing was I'll lie to them. I'll harness all of this myself and tell them I'm just like a salesman or something. So that's what I did," he said.
Laux said he had to tell at least one person, though, in the event of his death overseas. So he gave his brother Ryan a watered-down version of his occupation and what amounted to a verbal living will.
"I couldn't write it out, because technically it doesn't exist and so he has to memorize all of this," Laux said. "He's a tough guy, like most people from this area."
Laux served in Afghanistan for two years, an experience he discussed in the interview and wrote about in his New York Times bestseller, "Left of Boom: How a Young CIA Case Officer Penetrated the Taliban and Al-Qaeda."
He said he was the first CIA officer to infiltrate the two terrorist organizations and write a book about it. He learned the language of southern Afghanistan, developed sources and eventually uncovered the man codenamed "Wolverine," who was responsible for the trade of improvised explosive devices, the No. 1 killer of American servicemen.
The title of his book, "Left of Boom," refers to everything that occurs before an IED goes off, including training and the manufacturing, transporting and planting of the device.
"Get them before they place the bomb so we don't need a mine sweep," Laux said. "Get them before they ever got it in the ground. Get them before they get to the market. Hey, even better, get them before they manufacture it."
It turned out that a businessman was operating a mafia-like enterprise of supplying bomb components, such as garage door openers, to Afghani terrorists.
Laux worked undercover, learning the language and bypassing the need for a translator, donning Arab dress and growing a long beard, a "two-fister."
"The Afghans see that as a sign of respect. They'll come up and without even asking they'll kind of measure your beard with their fist," he said.
Unlike some of his colleagues, Laux said he treated the people there not as work but as human beings.
"You need to get in with these guys and be sitting with them drinking tea, smoking cigarettes and getting to know them and not just looking at them as a job," he said. "And then you start to understand, 'Oh my God, everything I thought about these guys ... they're actually pretty smart.' "
Laux had to memorize the area's geography so he could detect those surveilling him. With his training, he could spot the Afghan equivalent of police, FBI and CIA.
"They have infrastructure just like we have," he said. "Most countries do have six different levels of law enforcement that you just got to be aware of."
He also had to deal with terrorists - pedophiles and wife beaters, "the worst people on the planet" - and disgruntled Arabs.
"But you may just be a 17-year-old who's pissed off and want to kill me today so now I got to worry about you too," he said.
Laux said his Midwestern background proved to be advantageous. Born in Coldwater, Laux and his family later moved to Bryant, Ind. His father worked at the Portland Forge and his mother at Bearcreek Farms. Their home burned to ashes his senior year and his parents ended up moving back to Coldwater, he said.
After graduating from Indiana University, Laux applied to and was ultimately accepted into the CIA.
"They don't take anybody who does drugs. They don't take anybody who has problems in their life," he said.
The agency accepts only the brightest minds and he competed against other recent college graduates, many of whom came from privileged upbringings and Ivy League schools.
"So that's most of the talent pool that the CIA is going to be attracted to because they know they're getting a highly intelligent, polished individual, super smart who has never broken the law," he said.
Once selected, all recruits were on equal footing, he said
"There's no preparation you can take. It's all secretive. There's no test that you can take in college. There's no degree called special agent or espionage or spy," he said.
Though Laux considered himself a "redneck" working among privileged, affluent 20-somethings - some from the East Coast with diplomats or ambassadors for relatives - he had qualities unique to growing up in a rural area: grit, self-reliance, common sense and no-nonsense toughness.
"Growing up in the country, running around in the woods, being your own man at a young age, (the) alternative to that is growing up on yachts, growing up on private jets," he said.
Laux was also in the Middle East involved with the Syrian conflict. However, the strain of juggling so many identities and the ravages of war had a terrible impact on his psyche, Laux said. He began abusing alcohol and pain pills and eventually left the CIA to salvage his mind from darkness.
Today, he ponders what lies ahead. He's considered a career as a writer as well as a national security consultant, but he's in no rush. He still has an apartment in Washington, D.C., but is considering moving here because he likes the area so much.
"This area is so patriotic," he said. "Like the American Legions and the VFWs run the show in Mercer County."
He's in the midst of a monthlong vacation with his parents in Coldwater and looking forward to this weekend's events.
"I've always liked the Coldwater Picnic, and I used to actually try, when I could, come home from wherever I was deployed in the world," he said.
Many people when introduced to Laux are surprised to learn he's a former CIA operative.
"They never even heard of somebody who's done it and so when they see me in real person, they have like this Hollywood mentality of like, 'that organization's real? We thought it was just Marvel Comics,' " he said.
Laux said he hopes his story inspires local young people to dream big. He said he too, like many teenagers, once was unsure of what he wanted to do with his life.
"Go be a Navy SEAL. Go conquer the world. You can do anything you want. The CIA is not off-limits," he said.