Saturday, December 10th, 2016
House for local men fighting addiction almost ready to open
By Jared Mauch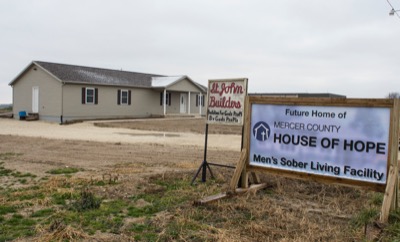 CELINA - Mercer County men fighting drug addiction will soon have a shelter to help them onto the right path.
Mercer County House of Hope organizers are putting the finishing touches on a men's home on Mud Pike.
The home, which is located across from the women's house on Mercer County Home Road, is nearly complete. The basement stairs were scheduled to be carpeted along with other minor finishing touches on Friday, ministry member Bruce Swonger said.
Groundbreaking for the home was in April and volunteers worked to finish the project over the past several months.
St. John Builders, an organization out of St. John Lutheran Church, Celina, did a majority of the construction and finished working last week, he said.
Swonger said volunteers didn't just contribute their time to build the 4,200-square-foot home - every item in the home was donated to the ministry.
Some days contractors would stop by and ask if they could pitch in, he said.
"We live in a very generous and giving community, and we saw this generosity also with the women's home," he said.
The ministry received about $75,000 in donations for the construction, Swonger said.
"You don't just raise $75,000 in 90 days time. God had a hand in this," he said.
Local businesses donated some larger items such as beds, cabinets, flooring and countertops. The ministry has accepted tables, sofas and other interior items from individuals, volunteer interior decorator Anna Katterhenry said.
House of Hope has a wish list of items that can still be donated for the home on the ministry's website.
The home, which will have a public dedication and open house on Jan. 14-15, will be able to house six residents and a house manager. The home has a common room, bedrooms, kitchen, office, two full bathrooms upstairs and a second common room in the basement, Swonger said.
The program is designed to help residents overcome drug addiction and better their lives. House of Hope has operated a women's home for the past two years at 4874 Mud Pike.
"People want to change their lives, and this is the first step," Swonger said.
A house manager must be hired for the men's home and then the search for residents will begin. Swonger said residents should be selected by February.
The house is just about ready, but some work will continue next year, Swonger said. Landscaping and construction of a deck in the back yard will be done next spring, Swonger said.
The women's home opened in 2014 and 13 women have successfully completed the program, he said.
Ministry members had concerns about violence and the women's safety, but no problems have arisen. Both homes are outfitted with exterior security cameras. It also helps to have the Mercer County Sheriff's Office nearby, he said.
No women have relapsed while in the program, Swonger said.
He hopes for the same success with the men's program. The two homes offer ways to help people recover and overcome drug addictions, Swonger said.
The ministry is working on a community group exit program to help people sustain a clean lifestyle without drugs after they complete the five-phase program, he said.