Wednesday, January 11th, 2017
Flyers roll past the Bulldogs
By Gary R. Rasberry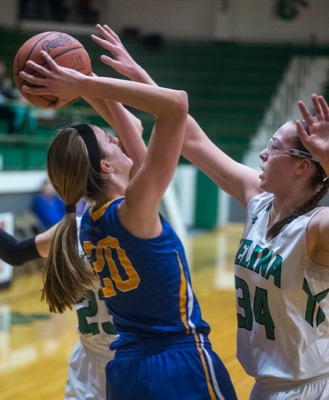 CELINA - Missing two starters, Marion Local started out slowly against Celina on Tuesday night in Mercer County girls basketball action.
A 7-0 run to end the second quarter sparked the Flyers to pull away for a 39-18 win over the Bulldogs at the Fieldhouse.
"Marion did a nice job with their man-to-man defense and put pressure on us," Celina coach Steve Bader said. "They caused us some problems. As soon as we get frustrated, we're not very confident."
Marion was missing leading scorer Sarah Fesenmyer and guard Jessie Kramer due to injuries. The loss of the two veterans showed early as the Flyers struggled to score. The only thing that worked in Marion's favor was that Celina, a young team that has struggled to score this season, also wasn't putting up the points.
After Celina's Kassidy Fark scored with 6:55 left in the first quarter to put the Bulldogs up 2-0, Marion's Macey Griesdorn put up the tying basket with 1:48 left and then with 24.8 seconds remaining, Griesdorn hit one of two free throws to give the Flyers a 3-2 lead after one.
The scoring continued to be at a snail's pace in the second quarter with the teams trading baskets. Marion went up 9-6 on a Kara Evers bucket with 4 1/2 minutes to play in the half, but a Maddy Luebke bucket and a Fark free throw tied the game at 9-all with 2 1/2 minutes to play.
The tie sparked the Flyers as Natalie Rethman hit a 3-pointer to put Marion up three, followed by a Rethman basket. Griesdorn's stickback with 17 seconds left gave the Flyers a 16-9 halftime lead.
"We had them where we wanted them," Bader said. "We told them our defense was fine. They got that run before halftime and we never came out of it.
"(Rethman's trey) took the wind out of the sails. We just have to fight hard and play as hard as we can."
The Flyers added four more points at the start of the third quarter to make it an 11-0 run before Luebke scored to end the streak. By then, the Flyers were well in control, pushing their lead up to 20 at 32-12 at the end of the quarter.
"I told them at halftime I really wanted to pick up the defensive pressure to create some steals and get some baskets," Marion coach Beth Streib said. "In the first half, we were settling for threes and mid-range jumpers. When those aren't falling (Marion was 7-of-23 from the floor in the first half), you have to look to attack the bucket more."
Griesdorn led the Flyers with 13 points. Rethman added nine.
Luebke paced Celina with six points. Emily Braun finished with four.
Both teams are in league play on Thursday. Marion returns to the Hangar to face state-ranked Versailles in MAC play and Celina travels to Putnam County to take on unbeaten and state-ranked Ottawa-Glandorf.