Wednesday, January 18th, 2017
Redskins get WBL wrestling win over Roughriders
By Gary R. Rasberry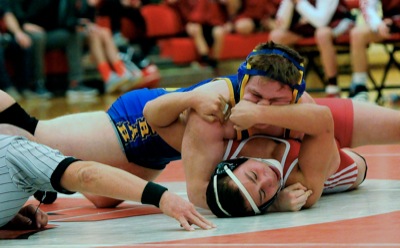 WAPAKONETA - Tuesday's old-style Western Buckeye League dual wrestling match between St. Marys and Wapakoneta had plenty of excitement and exceptional matches.
In the end, the host Redskins wrapped up an undefeated league record in beating their Auglaize County rival Roughriders 43-24 at Wapakoneta High School. St. Marys wraps up the league schedule at 4-5.
Experience played a key for the Redskins, who had four seniors in their lineup to the Roughriders' two. St. Marys also had four sophomores and two freshmen compete.
"They're coming (along)," St. Marys coach Larry Gruber said. "It's just that they're not ready to compete with some of these (seniors)."
Wapak went up 9-0 quickly as Cordell Newman scored a pinfall win at 170 pounds and St. Marys voided at 182 to move Austin Giesige up to 195 to face Zach Miller. Giesige had a tough battle with the Redskin junior before giving St. Marys its first points with a 3-2 decision to make it 9-3 Wapak.
The two top heavy weights were in Wapak's favor as two-time All-Ohioan Landon Hall needed just a minute to win at 220 pounds via pin over Aaron McGraw and Brenen Knueve pinned Nicholas Myers in 1:29 at 285 to raise the Redskin lead to 21-3.
Going from the heavy weights to the light weights, Wapakoneta's Caleb Pyles had a 6-4 lead on Clayton Drummond in the 106-pound bout before Drummond scored a reversal to tie the bout, cut Pyles loose to set up a better pinning attempt and then followed through with a pin with 34 seconds left in the third period. Wapak took 113 pounds via the void and Luke Beach needed a minute to beat Parker Enoch at 120 to raise Wapakoneta's lead to 33-9.
St. Marys responded with nine points in the next two bouts as Austin Drummond beat Darin Dean 2-1 at 126 pounds and Preston Wiechart pinned Kaleb Brown at 132 to pare the deficit down to 33-18. The Redskins clinched the match at 138 when Jayden Hefner pinned Howie Spencer in 1:17 to make it 39-18. Brad Beemer had to hold off a late charge by Tommy Mabry at 145 pounds before winning an 18-9 major decision, but St. Marys rebounded with decision victories in the final two bouts as Patrick Day won a 16-10 battle over Koleman Brown at 152 and then Noah Vogel won 6-2 over Trevor Plaugher at 160.
"I was happy to score 24 points against (Wapak)," Gruber said. "We had 2-3 spots that had chances to score more points.We could have scored a dozen more (points)."
St. Marys is off until Jan. 28 when the Roughriders head to Elmwood for the Joe Z Duals.