Tuesday, January 31st, 2017
Lowering of lake stirs concerns
Goal is flood prevention
By Ed Gebert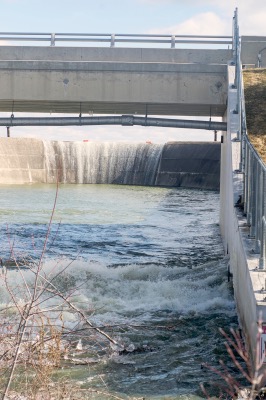 GRAND LAKE - Area residents have been voicing their concerns on social media and other places over the state's lowering of the lake's water level.
Last summer's drought left Grand Lake's water levels too low, making boating more difficult, and some residents have said they are worried the same thing will happen this year.
Ohio Department of Natural Resources spokesperson Matt Eiselstein said the drawdown of the lake is an annual winter practice to prevent flooding when the spring rains come.
"I know a lot of people up there are concerned about water being let out, but they have to remember that in March and April last year, we hit full pool," he said. "We had all the water we'd normally be holding in that reservoir. That's the thing, right now we have to make sure there's room in that reservoir for spring rains and things like that."
The lake level this morning was 0.32 inches below the notch at the spillway, according to Dave Faler, Grand Lake St. Marys State Park manager.
Lowering the lake level by 1 inch takes three days with one gate fully open, Eiselstein added
"What we are trying to do here in the state is actively manage our lake levels to prevent flooding, dock damage, erosion and sewage backup," Eiselstein said.
He explained that last year's low levels had nothing to do with the winter drawdown and were solely caused by the drought, noting the lack of rain during the late spring and early summer months was serious.
"The Department of Agriculture issued a disaster declaration for Mercer County from the end of May last year into August because of drought," he said. "It wasn't proactive lake management in the winter months that prevented folks from getting out on the water. We had a drought in the area, so much so that the federal government termed it a disaster."
Eiselstein reminded residents that damage caused by spring rain runoffs, flooding and ice damage to docks can be a much bigger headache for property owners than low water levels. No problems have been reported so far this year, he added, but that could change at any time.
"That's why we do a winter drawdown - to avoid those things," he said. "Typically, what we try to do is draw it down nine inches. ... That's our normal. ... It's important to manage it to make sure all the property owners don't suffer flooding or damage to their docks or anything of that nature."
Earlier this month, the U.S. Small Business Association announced that disaster loans are available to businesses in the area, including Auglaize, Darke, Mercer and Shelby counties. Low-interest loans are available for eligible business owners who suffered losses because of last summer's drought conditions.