Wednesday, May 17th, 2017
Train keeps a rollin'
Parkway routs Ada for 20th straight victory
By Colin Foster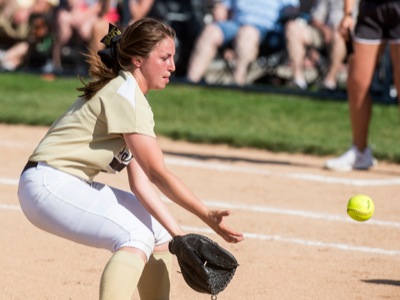 WAPAKONETA - The Panther Express kept on rolling Tuesday night.
Ada could not derail it.
The Parkway softball team won its 20th straight game in with a 15-0, five-inning victory over the Bulldogs at the Wapakoneta High School Athletic Complex in the Division IV district semifinal.
The Midwest Athletic Conference champions moved a step closer to claiming the district title that had eluded them last season. The Panthers lost to New Bremen 2-1 in last season's title game. Parkway will play the winner of tonight's New Bremen-Minster game on Friday at 5 p.m. back in Wapakoneta.
"We're getting good pitching and good defense," said Parkway coach Mark Esselstein after his group added to its school-record win streak. "And we can really stick the ball when we're on our game. So that's a good combination to have."
The game lasted 1 hour and 2 minutes, but the third-ranked Panthers (21-1) quickly put the game out of reach for Ada (13-11) with a six-run first inning.
Parkway scored all six runs with two outs in the frame. Bulldog pitcher Kaiti Newland issued walks to Macy Henkle and Haley Hawk, who was replaced on first by Miranda Haynes. Bailey Bates brought the baserunners home with a two-run triple. Alisa Gray followed with an RBI double. After Bailey Strickler drew a walk, McKenna Temple hit a two-run double and Alyssa Miller made it 6-0 with an RBI single.
"The kids followed the script and stayed back on the ball," Esselstein said. "When they pitched around Haley, Bailey Bates made them pay for it, and that's really the tough part about facing our lineup. We've got hitters all up and down the lineup. If you try to pitch around Haley and take her out of the game, we've got other kids who can hurt you with their bats."
Newland issued her fifth walk of the game in the second to Alyx Slusher. Hawk made her pay with a two-run shot to right.
The scoring continued in the third for Parkway. Temple had a triple to start the inning. Temple's pinch-runner, Mecaylah Hesse, scored home on a double by Miller. Henkle had an RBI single and then Slusher made it 11-0 with an RBI sacrifice fly.
Strickler connected on an RBI triple in the fifth, Hesse contributed an RBI double, Grace Swander had a pinch-hit RBI single and the Panthers' final run came home on Ada's lone error of the game.
Nine different players collected hits for Parkway and the team finished a combined 12-of-23 with eight extra base hits.
"There were times throughout the year when we beat ourselves, but that wasn't the case tonight. We just ran into a team that smashed the ball," Ada coach Troy Erickson said. "I've got a lot of respect for those girls. They can play - there's no doubt about it."
Hawk pitched a two-hitter over five innings, striking out two and walking one. Temple and Gray had two hits apiece.

Correction:
Macy Henkle was misidentified as receiving a walk in the first inning in the original version of this story.