Thursday, July 20th, 2017
Crafton comes away with the win
NASCAR Camping World Truck Series Eldora Dirt Derby
By Mike Ernst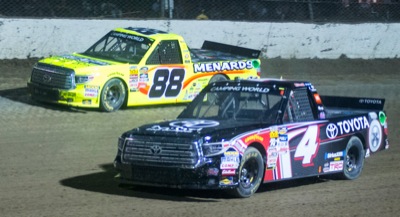 ROSSBURG - Two-time Camping World Truck Series champion Matt Crafton said he would have been happy with a top-five finish when the Eldora Dirt Derby took the green flag on Wednesday night at Eldora Speedway.
When the checkered flag flew at the conclusion of the bruising 150-lap fight, the 2013 and 2014 series champion had snapped his personal 27-race winless streak and won the only dirt event in NASCAR.
Crafton wrestled the lead away from race-long dominator Stewart Friesen on lap 133 and then pulled away to his 14th career NASCAR Camping World Truck Series win, his first, however, since winning in Charlotte in May of last year.
"My first dirt win - a lot of fun," said Crafton. "It wasn't the one I thought we would get to end the streak. I would have been happy with a top five coming in here, so I am really happy with this."
Crafton has spent the last couple of seasons driving a modified on some of the off weekends from the truck series to prepare for the Eldora event, and while he has never won in a modified, the experience he has gained played a big factor in Wednesday's victory.
"It helped a lot," Crafton said of the dirt experience. "Learning what the track does and seeing the different spots on the race track. In the years past I really didn't know what I was looking at to be totally honest. I just kept studying and studying and I have had a lot of great people come here to help me. Nick Hoffman (modified standout) has really helped me."
Crafton made a late pass of Friesen, who had led the first 34 laps of the opening segment from his pole starting position. He captured the opening caution-filled 40 lap segment, but then struggled in the second segment of 50 laps and found himself outside the top 10 when the final 60-lap segment took the green flag.
"In the second part of that race we just downright stunk," Crafton said. "It was my fault. We over tightened it a little bit in the first run. It got free and we just went back to the way we started the race."
Using the outside groove, Crafton quickly and methodically marched his way to the front. He had moved back into the top five by lap 120 and seven laps later got in front of John Hunter Nemechek for the runner-up spot.
"I knew I was getting beat running down low," Crafton said. "Finally, at the end, I said, 'Well, we may have to tear the right side off to get the win.' I started doing it and this truck became a rocket ship."
Crafton chased down Friesen, who had won the second stage, and made the winning pass by going around the outside of Friesen in turns one and two. The move denied the Big Block Modified graduate his first Truck Series win.
"Congrats to Matt, he's been doing his homework on the dirt and it paid off," said a dejected Friesen, who led a race-high 93 laps. "We didn't come here to run second that's for damn sure, but I'm proud of these guys. They worked hard to get this truck dialed in. We had a great truck, he (Crafton) just got rolling on the top, it cleaned up, I was so committed to the bottom and the middle and he just found a line and got us. It burns."
Former sprint car driver now racing full-time in the Truck Series, Chase Briscoe suffered transmission problems during the event but soldiered on for a solid third place finish.
"It feels like we were given a bad deal, having to race without fourth gear," said Briscoe, who pilots a Brad Keselowski-owned truck. "We really needed fourth gear on those restarts. It feels like we didn't get a fair shot, but third is a solid finish for us so we will take it and move on to Pocono."
Grant Enfinger and Nemechek completed the top five. Defending World 100 champion Bobby Pierce got a lap down early after spinning and crashing on lap five, soldiered on and rallied back late to finish in sixth ahead of Noah Gragson, Justin Haley, Christopher Bell and Austin Cindric.
For Bell, it was a roller-coaster night. Bell, who had finished second in last Saturday's Kings Royal sprint car event, battled for the lead early but was involved in an accident when he spun and was collected by Kaz Grala on lap 35. Bell restarted the second segment on the tail but charged through the field to a spot in the top-five at the end of the second segment.
His Kyle Busch Motorsports team elected to keep him on the track instead of making adjustments during the break between segments. Bell led the first 20 laps of the final segment before his truck suffered a flat tire with 23 laps remaining. Bell again restarted deep in the field and worked his way back to ninth at the finish.
"I ruined it for my guys. We had the truck to beat," Bell said. "I made a mistake early on that really cost us. My guys worked really hard to get us going again and the truck was still driving good and I thought we had enough speed to still win but that flat tire just killed us."
The qualifying races were won by Friesen, Crafton, Grala, Bell and Ty Dillon. Pierce won the B-main.
Eldora officials will now catch their breaths and take several weeks off before returning to action on Aug. 12th for Family Fireworks Night featuring the UMP Modifieds and the Eldora Stock Cars.