Thursday, November 9th, 2017
Electric crews restore full power
Marathon process completed
By William Kincaid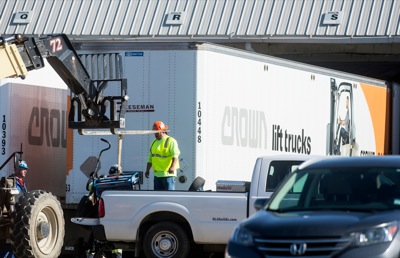 CELINA - City crews, after having put in countless hours over the last few days, on Wednesday afternoon re-energized the electric grid to restore full power to Celina, mayor Jeff Hazel confirmed this morning.
However, as of this morning, Menards and Walmart were still operating on standby power via emergency generators, Hazel said. They'll switch over to the city's power grid once DP&L finishes up additional work, he said.
Crown Equipment Corp. officials released an official statement this morning stating the company is committed to restoring production at the company's damaged Celina plant, with teams working on a recovery plan since shortly after the incident on Sunday. With power restored to the facility, Crown's contractors and suppliers are lending their support by providing much-needed resources.
The statement said communication with affected employees, customers and other impacted parties is ongoing.
Crown Equipment Vice President of Human Resources Randy Niekamp confirmed Thursday morning that the company will pay employees affected by the Celina plant closure while the plant is out of commission.
State Route 29 from Grand Lake Road to Havemann Road was temporarily closed today to allow DP&L crews to continue repairs to their high-voltage lines, Hazel said. It was expected to reopen at 1 p.m, city safety service director Tom Hitchcock said.
Havemann Road has reopened, but Grand Lake Road is still closed, Hazel pointed out.
Once the grid was restored, crews went to each business on Grand Lake Road and Havemann Road, making sure each had been connected to the grid, Hazel said.
"Any resident or business that is currently without power should contact Celina Municipal Utilities with your name and address," a city news release states. "Thank you for your patience as Celina has rebuilt a substantial portion of its electric grid that was damaged from the Sunday tornado."
Hazel said it may take several days before officials can assess the total cost of the storm to the city. In addition to employee overtime hours - which have yet to be tabulated - the city will also be responsible for hours and materials provided by mutual-aid responders.
City council in the coming days or weeks may need to appropriate funds to cover the expenses, he said.
The National Weather Service office in Wilmington confirmed on Monday that two EF2 tornadoes - each producing wind speeds as high as 120 mph - had touched down, one in western Mercer County and one in Celina.
- Staff writer Sydney Albert contributed to this report.