Monday, November 13th, 2017
Cavs fall short to Tigers in title match
By Colin Foster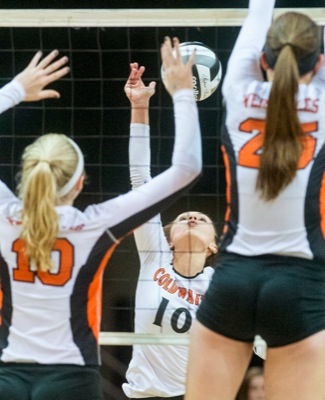 FAIRBORN - New Bremen coach Diana Kramer walked into the media room to grab a beverage prior to the arrival of players and coaches after a five-set battle between Versailles and Coldwater in the Division III state championship game.
"It sucks that somebody had to lose," Kramer said.
That's the truth.
The match had 26 ties and 12 lead changes, an unbelievable number of one-handed digs and defensive plays, scintillating spikes and drama until the end. The Tigers were the ones holding the golden trophy, outlasting the Cavaliers for a 3-2 win (22-25, 25-20, 25-19, 21-25 and 15-9) on Saturday at Ervin J. Nutter Center.
"We knew it was going to be a battle," said Versailles coach Kenzie Bruggeman, who like Kramer had played her high school volleyball at St. Henry. "We both come from the MAC. We both have essentially the same schedule and preparation leading up to this point. So we knew it was just going to be a battle and we had a good feeling that it was probably going to go five, as well. But again, we just had that training. We had a battle against Miami East and we were just ready to take it on and enjoy that competition."
Versailles (24-6) won its second title in program history after having taken it home in 2013. The Tigers' win also avenged a four-set loss to the Cavaliers during the regular season.
"They're a great team," Coldwater coach Nikki Etzler said. "They're well deserving of this title. Even though we'd like to be holding the gold, we're super proud of the silver that they're holding because they worked their tails off this year. I couldn't be prouder - I wouldn't want to be coaching another team. This one's top notch."
The Cavs (28-2) led for the majority of the opener after storming out to a 9-4 lead and ended up handing the Tigers their first opening-set loss of the tournament. It got interesting late, though. Versailles went on a 5-0 run after having trailed 18-14, as an ace by Kami McEldowney, two kills by Elizabeth Ording and a Cavalier hitting error vaulted the Tigers in front 19-18. The set was tied at 20 before Coldwater launched a 3-0 run, a Versailles hitting error, a Tasha Kahlig ace and a Lauren Gilliland spike supplying the points. Olivia Harlamert and Gilliland tallied the winning points with kills.
Versailles started the second set on a 4-1 run and then Coldwater scored the next eight of nine points. The set had an endless supply of 3-0 and 4-0 runs and lead changes after that. The Tigers ran away in the end, breaking a 17-all tie with an 8-3 run to close the set.
Kate Stammen had two aces to lead Versailles out to a 5-0 run in the third set, but Coldwater battled back to an 8-all tie. The Tigers gained some distance, though, with another 4-0 run and maintained at least a three-point lead the rest of the set. Ording finished off the 25-19 victory with her ninth kill of the set.
The Tigers had another great start in set four, jumping out to an 8-1 lead thanks in large part to three kills by Danielle Winner and aggressive serving. But the Cavs soon caught fire. They trailed 15-10 before reeling off an 8-1 run to take an 18-16 lead. It was tied one last time at 21-apiece. A lift on Versailles and hitting errors on back-to-back sequences vaulted the Cavs in front for good. A double stuff by Harlamert and Sudhoff gave them a 25-21 win.
The Cavs appeared to have all the momentum early in the fifth set as Gilliland slammed home a couple of kills to help put them in front 4-2. However, the momentum was short lived. The set was evened up at 8- and again at 9-all when the Tigers reeled off six unanswered points for the win. Danielle Winner and Mallory Marshal had two kills apiece, Coldwater also had an attack error and Caitlyn McEldowney ended it with an ace.
"It was back and forth in that fifth game - again, we were anticipating that battle - but once we hit nine, there were five or maybe even six seniors on the court, and they just looked at each other and said 'let's go and finish it out,' " Bruggeman said.
The combined 234 digs were easily tops of any game at this weekend's tournament.
"We had a few defensive breakdowns in crucial moments," Etzler said. "But beyond that, we knew Versailles was going to be one of the best defensive teams that we've played. They did a great job. A lot of hustle, a lot of confidence and I think that's one of the reasons why they were able to have so many surges of points. That's what you expect in the MAC, though. It's always about defense."
Danielle Winner had a match-high 25 kills for Versailles and Ording added 21. Kami McEldowney totaled 38 digs and Ellen Peters had 54 assists. Kahlig had a team-high 19 kills for Coldwater, Gilliland had 18 and Sudhoff 10. Katie Alig had 37 digs and Harlamert added 23. Elena Knapke totaled 47 assists.
Coldwater was dealt its first set losses of the postseason, falling short of claiming the program's first state title in its first trip to the venue since 1994.
"It's definitely something to be proud of," said Kahlig, one of a handful of seniors on Coldwater's roster. "Not many teams make it this far, and we did." "We're proud of our team," said Harlamert, also a senior.
"Playing another MAC school, the atmosphere was just so much fun. I couldn't be prouder."