Monday, January 8th, 2018
Donor steps up to fund splash pad at Bryson Park District
By William Kincaid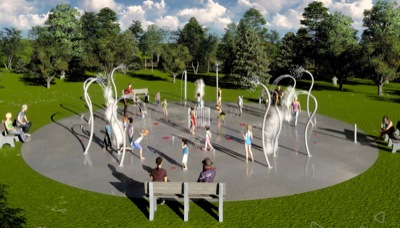 CELINA - Plans continue to shape up for the new Bryson Park District along Lake Shore Drive as another donor has come forward, this time pledging to cover the cost of a splash pad.
Kathy Sharkey, owner of Ergo Desktop in Celina, has deposited $200,000 into an account held by the Mercer County Civic Foundation to pay for the splash pad, an amenity that has grown in popularity in both Mercer and Auglaize counties, mayor Jeff Hazel said.
"This is just one more example of people being able to invest in the community for the betterment of its visitors, its citizens," Hazel told the newspaper this morning. "We're very proud and pleased to be able to do this."
Sharkey is making the donation in honor of her late husband, Daniel J. Sharkey, who died on Jan. 15, 2015, after a yearlong battle with cancer. After 35 years in the tool-and-die industry, he became an entrepreneur and inventor. His invention, "The Kangaroo," is an adjustable-height, sit-to-stand desk. The Sharkeys started the Ergo Desktop company in November 2009 in a one-car garage, later moving to a new 20,000-square-foot manufacturing facility on Grand Lake Road. Their products are now sold internationally.
"(Daniel) loved kids and wanted to do something for kids," Hazel said. "It will be an awesome splash pad."
Drawings are finished and the city plans to bid out the project next month, Hazel said. The amenity will be located on the former mobile park ground within the Bryson Park District, behind the planned Harley Jones Rotary Memorial Amphitheater and toward the lake side. He expects it to be up and running in the summer.
The planned 2,827-square-foot splash pad will consist of a concrete circle with various sprinkler and sprayer apparatuses. Users of all ages could play in the water for free.
Other park developments are underway as well.
"We are working with a grant writer right now for some of the playground equipment," Hazel revealed this morning, adding the play areas will be all-inclusive and meet American Disabilities Act requirements. "It's beyond the simple slide or teeter-totter."
"We're trying to do things that are unique because we believe that Celina is a destination," he continued.
City council members tonight will vote on second reading of an ordinance to purchase materials for the new amphitheater.
The legislation would allow city safety service director Tom Hitchcock to award a $357,750 contract to the sole bidder, David Williams & Associates Inc. of Harrison. City officials this month aim to solicit bids for the actual assembly of the amphitheater and other related work.
The amphitheater is set to be built on a portion of the former Mercelina Park softball field. The structure will face an open grass area and be financed by a $1.2 million state capital line-item grant secured by then-state Ohio Senate President Keith Faber, R-Celina, according to Hazel.
The internal area of the amphitheater will include stamped concrete levels capable of holding about 1,500 people, Hazel has said. But when the outlying grass area is taken into account, the amphitheater's total capacity may be as large as 4,000.
Also, Mercer Health has vowed to help pay for one of numerous fitness trails, and the Celina Lions Club recently laid out plans to build a 1,500-square-foot shelter house for year-round use to serve as a community gathering place, both set for the park district.
Lions Club members late last month kicked off a fundraising campaign to make the estimated $400,000 facility a reality by fall 2019. Club members agreed an enclosed, shelter house-like facility, similar in concept to the one at Burkettsville Park, would be a welcome addition to the city's parks. Working hand-in-hand with city officials, Lions members plan to build the facility near the hot water hole, south of the basketball courts and southwest of the site of the future amphitheater.
Councilors in April officially established the long-discussed park district, which encompasses Mercelina, Pullman Bay and Lakeshore parks as well as the sites of the former Versa Pak building and Mercelina Mobile Court.
A map designed by Bassett Associates of Lima designates areas of parkland for an amphitheater, fitness trails, five playground areas, entry arches, shelter houses, restrooms, a splash pad and a low-rim basketball court, among other amenities.
City council president Jason King in August said city officials spent two years discussing deed restrictions for the new park with Bryson Trust Fund officers.
"The Bryson Trust is very specific that what its money is intended to do is for children and youth of the city of Celina," King had said.
City council members in 2014, on behalf of the fund, borrowed $2.64 million from the Mercer County treasury to help buy the former Versa Pak building and the Mercelina Mobile Court. The total price was $2.2 million for the Mercelina land and $745,000 for the Versa Pak property.