Wednesday, January 10th, 2018
Hot night for Cats
Schmiesing scores 34 to lead Minster
By Gary R. Rasberry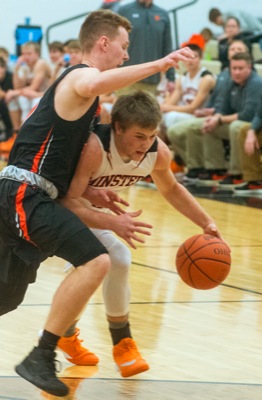 MINSTER - Last Friday night, Coldwater hit nine three-pointers in the first half en route to beating New Knoxville.
Tuesday night, the Cavaliers felt the other side of hot-shooting as Minster hit 8-of-9 from beyond the arc and stayed hot in the second half to post an 80-48 win in Midwest Athletic Conference boys' basketball play at Wildcat Gymnasium.
Isaac Schmiesing was the spark for the hot-shooting Wildcats (6-2, 2-0 MAC). After Coldwater took a quick 4-0 lead and Jared Huelsman pared it to 4-2, Schmiesing tied the game with a two-pointer and then knocked down the first of eight three-pointers to put Minster in front 7-4. Schmiesing scored 14 of the Wildcats' 20 first-quarter points, going a perfect 4-of-4 from the three-point line.
"We just shot it really well," Minster coach Michael McClurg said. "First half was really good. We have to make sure not to get complacent and think we can do that every night."
"I think we got undisciplined on offense and defense," Coldwater coach Nick Fisher said. "It was a heckuva shooting night for them, so we did get a little bit undisciplined, (Minster's) shooting exploited it tenfold."
The hot shooting wasn't limited to Schmiesing. Mike Ketner made all three of his attempts in the second quarter, including a buzzer-beating NBA-distance trey to put the Wildcats in front 40-25 at the half. Minster was 16-of-28 from the field in the first half and only missed one three-point try.
Coldwater made a valiant effort to get back into the game in the third quarter. Marcus Bruns was held to four points in the first half but hit a pair of three-pointers in the third quarter to help the Cavaliers whittle away at the Minster lead. Bruns' second trey with 2:27 left in the quarter got the Cavaliers to within eight at 45-37, but Schmiesing immediately ended the threat with another trey to put the Wildcats up by double digits for good.
"We had (the deficit down to) eight and had some opportunities," Fisher said. "We took shots that might have been ill-advised and (Minster) turned them into threes on the other end."
Minster finished off the game by outscoring Coldwater 28-8. Schmiesing, who had never scored more than 20 points in a game during his career, roared past 20 with a nearly perfect fourth quarter shooting effort. Schmiesing missed his first shot of the quarter, made the next five and missed his last shot before going to the bench to a big ovation after having scored 34 points.
"He's a real nice player who did a lot of good things last year. He's coming on strong this year," McClurg said. "He's dialed in and focused."
Ketner and Alex Lehmkuhl each finished with 10 points. Cody Frericks dominated the paint, pulling down 16 rebounds to go with his eight points.
Bruns was the only Cavalier in double figures with 12 points. Ben Wenning added nine.
The teams have a short turnaround time before their next games on Friday. Minster hosts St. Henry and Coldwater travels to Rockford to face Parkway.