Friday, January 12th, 2018
No. 1 Wildcats top Skins to remain unblemished
By Colin Foster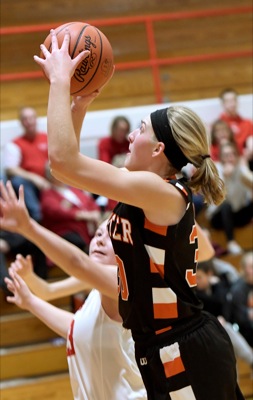 ST. HENRY - Minster was ranked the top team in the first Associated Press Division IV state poll.
Wendi Moorman and St. Henry won't argue with the pollsters after Thursday.
Courtney Prenger led a quartet of Minster players in double figures with a game-high 20 points, and the Wildcats' pressure defense forced the Redskins into 34 turnovers in a 65-25 victory at Redskin Gymnasium.
"We worked hard," Moorman said. "But that's a great basketball team. There's a reason they're the No. 1 team in Division IV. They just showed us that tonight."
The Wolf sisters, Ivy and Demaris, scored 12 apiece and Taylor Kogge added 10 for Minster, which improved to 12-0 and 4-0 in Midwest Athletic Conference play.
"Defensive intensity, rebounding and transition basketball, I was really happy with that stuff tonight," Minster coach Mike Wiss said.
Prenger scored 12 in the first quarter, even showing off a sweet crossover as she drove to the bucket once, Demaris Wolf added seven, and Minster forced St. Henry into eight turnovers as it built a 21-9 lead.
Kogge tallied eight of her 10 points in the second, connecting on a perfect 6-for-6 at the foul line. The Wildcats' lead grew to 39-17 by break. St. Henry (8-6, 1-3 MAC) had 14 shot attempts in the first half and 17 turnovers.
"That's a super athletic basketball team," Moorman said. "They get up and down the floor so fast. We just do our best to simulate what they got, but they've got 10-15 girls who get up and down the floor really quick. Their defense really forced us into a lot of turnovers. We just couldn't take care of the ball tonight."
Minster continued to apply heavy pressure in the third quarter and held St. Henry scoreless until Cora Stammen converted a layup with 40 seconds remaining. Ivy Wolf scored all 12 of her points in the third as Minster upped its lead to 55-19 by the end.
"I thought we brought great energy to the floor," Wiss said. "I thought our bench brought energy along with it - the score went up when our bench players were out there. I thought we rebounded the hell out of the ball. I'm not going to say we ran great offense tonight, but I thought we did a very good job in transition, staying wide and getting the push pass up the floor."
Prenger added a team-high nine rebounds on a night when eight different Wildcats got in the scoring column.
Allison Siefring led St. Henry, finishing with six points and a game-high 10 boards.
Minster meets Sheridan at 10 a.m. on Saturday in the Classic in the Country Challenge at Berlin Hiland High school. The junior varsity meets Sheridan at 1 p.m.
St. Henry won't return to the court until next Thursday, traveling to New Knoxville.