Saturday, March 10th, 2018
Bulldogs bowl over competition
Celina bowling team wins first boys' state team title in school history
By Gary R. Rasberry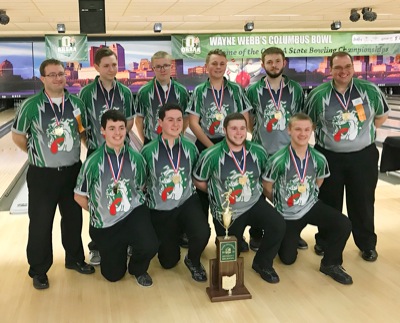 Compiled by Gary R. Rasberry

Nothing was going to stand in the way of the Celina boys' bowling team and its mission to bring home a state championship.
The Bulldogs had very few issues in conquering the competition and winning the Division I state championship on Friday at Wayne Webb's Columbus Bowl.
After qualifying fourth in the field of eight for the championship round, Celina defeated Beavercreek, Wadsworth and Stow-Munroe Falls in a best-of-five series to capture the championship.
The feat is historic as it is the first boys' team state title in Celina history and just the second in school history after the girls' basketball team's 1991 Division I state championship.
"There was a lot of determination and we made the best of everything," said senior Kolyn Wiehe via telephone.
"We knew from the first match of the season," senior Cole Cisco said of the lack of a boys' state title. "That's what we wanted to bring home: a state championship for Celina High School."
For coach Kieth Kiefer, nothing has quite sunk in yet.
"Honestly, it hasn't fully sunk it," Kiefer said. "Man, it feels good. Tomorrow it'll feel amazing and next week it will feel even better. You can't take this away from the seniors and underclassmen on this team. It's a great feeling."
Celina got out to a bit of a slow start in the three regulation games of qualifying, but used a 1,017 second game to move from 10th to sixth going into the round of three baker games.
"Honestly, we underperformed in the regulation games if you hold us to our own standards," Kiefer said. "Our motto is, and will always be, 'It's not how you start, it's how you finish.' Bakers were phenomenal."
"After the second game where we bowled 1,017, that just really boosted everything up for us," Wiehe said.
Indeed they were.
Celina bowled a 667 in the three bakers to secure the fourth seed in the eight-team championship bracket and would face Beavercreek first.
The Beavers opened up the quarterfinal with a 275-199 win over the Bulldogs, who were not worried at all.
"They were telling me not to worry," Kiefer said after losing the first game to Beavercreek. "They knew where they stood and didn't back down."
Celina roared back to win the last three games to advance 201-186, 170-167 and 182-164. The top three seeds, Cincinnati Oak Hills, Vandalia-Butler and Westerville Central, were all defeated in the quarterfinals, leaving the Bulldogs as the highest remaining seed.
"I talked to Wapakoneta's coach and he said it's just matter of getting the right shots at the right time," Kiefer said.
Against Wadsworth, Celina rolled right along, sweeping the Grizzlies 203-177, 208-175, 239-201 to advance to the championship match as Stow emerged from the other side of the bracket having defeated Westerville Central and Centerville.
Celina won the first two games 193-153 and 216-208 before Stow prevented a sweep with a 190-186 win. Celina closed out the championship in style, winning 234-200.
"We just didn't give up," Kiefer said. "That speaks volumes for the seniors. It's such an awesome feeling. I don't have the words."
"There was a lot of tears. Very emotional," said Cisco after the Bulldogs clinched the title. "Best feeling in the world for sure. Now it's like 'What do we do next?' "
Nate Langenkamp bowled a 651 series and Parker Maurer rolled a 641 to each earn honorable mention All-Ohio honors. Cisco rolled a 613 series and Wiehe finished with a 566. Jordan Weis bowled a 165 in his one game of qualifying. Garrett Forlow and Garrett Bertke combined to bowl a 125 in the second game of regulation games. Thomas Stoner rounded out the roster for Celina.
Cisco credits the support of family and the community.
"Bowling hasn't been a sport that people have followed too much," said Cisco. "After we started winning, we got more support. Our folks came to every match and we saw new faces at every match. That was just the best feeling ever: to see someone get excited about a sport they don't usually get excited about.
"The team chemistry is amazing," Cisco continued. "Every time someone gets down, we're all together to get each other back up. That's really been our success."