Monday, March 12th, 2018
Next stop: Columbus
Minster defeats Fort Loramie to advance to state semifinals for first time since 2010
By Gary R. Rasberry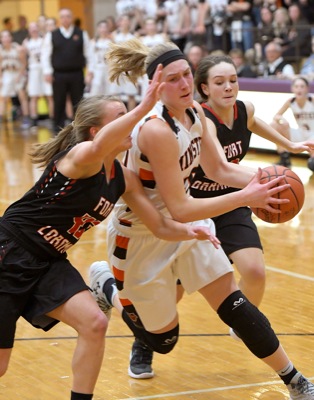 VANDALIA - The old saying "Defense wins championships." rang true for the Minster Wildcats on Saturday night.
The Wildcats broke open the close game with a 13-0 run to start the third quarter and held Fort Loramie to just 12 points in the second half en route to a 44-28 win to capture the Division IV girls' basketball regional championship on Saturday night at the Student Activity Center at Vandalia-Butler High School.
Minster (24-3) travels to the Schottenstein Center for the first time since 2010 on Thursday at 3 p.m. in a state semifinal matchup against poll champion Waterford. The first semifinal at 1 p.m. has Ottoville taking on Buckeye Central. The winners return Saturday morning at 10:45 a.m. for the championship game.
"Crazy!" said junior Courtney Prenger about making it to state. "Freshman year, we lost to Fort Loramie in the regional semis and last year we lost to Jackson Center (in the final). It feels good to go to the Schottenstein and play for the title."
The two teams, neighbors along the Auglaize-Shelby County line, played a close game in December with Minster winning 35-26 at Wildcat Gymnasium. The start of Saturday night's game showed no signs of being different as both teams put the pressure on early.
"Your offense is going to come and go against a good opponent," Minster coach Mike Wiss said. "But your defense can never leave you. That's something we've preached and you've heard it before."
Minster led 12-8 after the first eight minutes, but both teams struggled with offense in the first half of the second quarter. The Redskins (22-6) didn't score until nearly three minutes had passed when Kennedi Gephart hit a free throw. Minster was scoreless for 4 1/2 minutes until Ivy Wolf scored to make the score 14-9. Fort Loramie mustered up enough offenese to make a run, with Taylor Ratermann's 3-pointer with 34 seconds left tying the game at 16-all. Only Ivy Wolf's free throws with 24.2 seconds left allowed Minster to go to halftime leading 18-16.
"First time we played them we only had 11 points at halftime. This time we're down by two and felt pretty good about about ourselves," Fort Loramie coach Carla Siegel said.
Wiss had no qualms about his defense, which held Loramie to just 6-of-13 shooting and forced 18 turnovers, but the Wildcats were just 6-of-19 from the floor, with all but four shots coming inside.
"At halftime, the biggest thing we talked about was our shot chart," Wiss said. "It was all in the paint. We maybe had 3-4 shots in the first half outside 10 feet. Make your short ones. They're giving you a bump or a little body. Just go up strong. Nothing comes easy. They responded to the halftime talk."
Minster went to work to start the third quarter. Prenger got a bucket inside 37 seconds into the half to go up 20-16. Demaris Wolf followed with a trey and later knocked down a free throw to make the score 24-18. Prenger and Demaris Wolf each added buckets and Alli Fischer chipped in with a free throw to make the sore 31-16 with three minutes left to play.
"The third quarter was really big for us," said Prenger, who had six of the Wildcats' 15 points in the quarter. "Even though we hit the two free throws (at the end of the second quarter), the (Loramie) three gave them some momentum. We couldn't let them think they could get back in the game."
Fort Loramie, on the other hand, turned over the ball on its first five possessions without benefit of a shot and either turned the ball or missed shots on its first 10 possessions of the second half before Marissa Meiring scored with 2:44 remaining in the half. Loramie outscoredMinster 6-2 over the final stretch of the quarter, but the damage had already been done.
"You can't do that in a regional final," Siegel said of the five straight turnovers. "It felt like our players were trying too hard to make something happen. Minster's pressure does rattle you. … They had a great defensive plan and we didn't respond well."
The fourth quarter was dedicated to wrapping up the game as Wiss cleared his bench to get the reserves some playing time. Fort Loramie finished with 35 turnovers while forcing Minster into 18 turnovers.
Prenger and Demaris Wolf each scored 12 to lead Minster.
Meiring had 10 points to lead Fort Loramie.
Now Minster prepares for the program's fourth trip to state.
"I told them before we left here on Thursday there two years ago we lost in the semis and last year lost in the finals," said Wiss, who served as longtime coach Nann Stechschulte's JV coach the previous three trips to state. "I said tonight we're going to kick in the door because behind that door is Columbus."

State Matchups:
Home Team Listed First. Rankings are from Associated Press Final State Poll.
 
Division IV
Buckeye Central (26-1) vs. No. 2 Ottoville (26-2), Thursday, 1 p.m.
No. 1 Waterford (26-1) vs. No. 4 Minster (24-3), Thursday, 3 p.m.
State Final: Saturday, 10:45 a.m.
 
Division III
No. 1 Versailles (27-1) vs. Elyria Catholic (22-5), Thursday, 6 p.m.
No. 9 Ottawa-Glandorf (25-2) vs. No. 6 Columbus Africentric (25-3), Thursday, 8 p.m.
State Final: Saturday, 2 p.m.
Division II
Bellbrook (20-8) vs. No. 3 Gates Mills Gilmour Academy (24-3), Friday, 1 p.m.
New Philadelphia (25-2) vs. No. 6 Toledo Rogers (25-3), Friday, 3 p.m.
State Final: Saturday, 5:15 p.m.
 
Division I
No. 9 Wadsworth (24-3) vs. No. 6 Solon (25-2), Friday, 6 p.m.
Mason (24-3) vs. No. 1 Pickerington Central (26-2), Friday, 8 p.m.
State Final: Saturday, 8:30 p.m.