Monday, April 16th, 2018
Montezuma chief retiring
By William Kincaid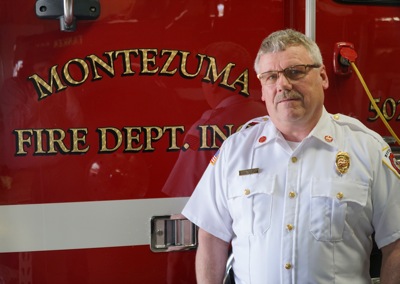 EDITOR'S NOTE: In honor of National Volunteer Week, The Daily Standard is running a series of stories saluting the efforts of local volunteers of all stripes.

MONTEZUMA - Rarely does a night go by that Franklin Township/ Montezuma Fire Chief Ron Schulze doesn't set work clothes within close reach should the fire alarm go off.
"The alarm goes off, he's instantly awake," Schulze's wife, Linda, said.
While he rushes to get dressed, Linda Schulze jots down the address of the fire and opens doors for him to expedite his two-mile journey to the fire station. She prays the rosary while he answers the call of duty.
"Most of the time we're leaving the station (on a fire run) in six minutes," Ron Schulze said proudly. "Weekends and evenings we're pretty quick."
Come May 3, Schulze won't have to worry any more about being jolted from his slumber. He'll step away after 40 years, eight months and six days of volunteer service with the fire department.
"I just need to start slowing down," Schulze, 61, said about his decision to retire as fire chief, citing the desire to spend more time with his three sons and their families, including six grandchildren. "Over the years the knowledge that I've gained with the firefighters and the camaraderie and the brotherhood with all the people in the county, they can't take that away from me."
At 21 years old, Schulze joined in August 1977, almost two months from the day he'd gotten married. He'd met his wife at Arnie's Corner, the go-to place for their group of friends. Schulze, who grew up on his family's farm in New Bremen, had secured a job as a certified welder at Midmark Corp., where he works to this day.
For his nearly 41-year run on the force, Linda Schulze has stood firmly beside her husband while he and his fellow volunteers battled blazes.
"Ron's always liked to volunteer and help," she said. "He came over here, and he knew some of the guys from the fire department."
The department today looks much different than it did in those days, Ron Schulze said. Back then it had maybe two trucks and didn't have money to purchase air packs until the early 1980s.
"They didn't have pagers," Linda Schulze said. "We're talking almost 41 years ago, so if the wind was blowing from the west, you could hear the fire siren at our house."
Those who lived in town would call by telephone to the volunteers who lived farther out.
"The equipment was kept on the trucks at that time," Ron Schulze recalled. "You put on the equipment when you got to the fire."
Today, the department, supported by a tax levy, has five trucks, a rescue boat, gear customized for each firefighter and other up-to-date equipment.
"We are so blessed with the funds that we got here. We've got a lot of equipment here," he said. "Our taxpayers have been so good to us."
His wife agreed.
"The tax levy passed at 80 percent. … But these guys really watch what they spend, too. They use the money wisely," she said.
With the modernization of equipment also came an uptick in state certification requirements. Back in the day, volunteer firefighters took a basic 36-hour course and renewed their training every three years.
"Now it's just constant training," Ron Schulze said, noting volunteers must be ready to respond to everything from a cat stuck in a tree to a hazardous-waste spill.
Schulze was promoted to chief in April 2010. He acclimated to the position on a learning curve, saying he was at first overwhelmed by the requisite documentation and paperwork.
He also set the department's top priority - the safety of the men and women volunteering.
"I hope and pray that their training is good enough and that we do everything right that they all come back out," he said.
No life-threatening injuries have incurred under his watch, he noted.
"Our track record is really good," he said. "Ever since I became chief, man, that was No. 1 - safety, safety, safety."
Though common for any leader of emergency responders, Schulze's focus on safety was born in part from his own experience. During the Coldwater Lumber fire in the summer of 1979, he was struck in the chest by a stream of water from a firehose that knocked him out.
"We were running like 120 PSI," he said. "I was completely blindsided."
Like other vivid memories, the experience proved indelible and is burned into his mind. Schulze recalled getting up on his hands and knees before blacking out. He awoke to rain falling on his face as he was loaded onto a cot and into the ambulance.
Doctors said if the blast had hit him just a little bit higher or lower, he likely would have died. Schulze rebounded from the scare and continued to serve.
The couple, whose first son had just been born, looked to their faith and decided he was meant to be a firefighter.
"You can't live your life afraid," Linda Schulze said. "I just felt like the fire department was a good calling for him."
Looking back on his tenure, Ron Schulze also points with pride to the department's boathouse. In October 2012, Schulze, Ohio Department of Natural Resources Director Jim Zehringer and others dedicated the department's new 30-feet-by-36-feet boathouse on Windy Point to house rescue boat Muskrat 1.
In just 2.5 minutes, the department is able to lower Muskrat 1 into Grand Lake, enabling firefighters to cut their response time by 15 minutes.
Firefighters over Memorial Day weekend last year responded in the early morning hours to reports of a male overboard in the vicinity of Safety Island.
"Twelve minutes later, we were on the scene," Schulze said. "We were in the water in six minutes."
The Schulzes and their three sons have all had to make sacrifices so he could help serve the community.
"I think when they grew up with it, that was their way of life," Linda Schulze said of her sons.
Weddings, church, family functions all had to be aborted at times.
"You name it, I've just about left it over the 40 years," Ron Schulze said. "She gets stranded."
"We're somewhere, he leaves, I always find a way home," his wife added. "Somebody always takes me home."
Capt. Lee Braun will succeed Schulze as the department's new chief.
"He's got a good head on his shoulders. He'll do a great job," Schulze said, adding that possessing a calm disposition such as Braun's is crucial for the position.
An open house to celebrate Schulze's nearly 41 years of volunteer service is slated for 1-3 p.m. April 29.
It's also an opportunity to thank all firefighters and local volunteer emergency responders as well as to bid farewell to Schulze as chief, Linda Schulze pointed out.
Her husband agreed, saying volunteers in all areas are harder to come by nowadays. The Montezuma Fire Department in particular needs about 30 volunteers but has only 21.
"That's our biggest hurdle right now is getting volunteers," he said. "It is a young man's game. You just don't see very many older ones doing this."
Ron said if others in their communities could find time in their busy lives to help with a service project or volunteer with the fire departments or EMS squads, the communities would be much better places.