Saturday, May 12th, 2018
Minster girls win MAC
Parkway's Crouch, Indians, Flyers have big days
By Colin Foster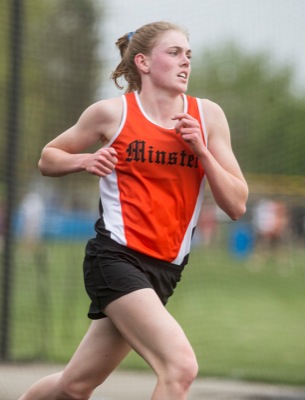 VERSAILLES - Minster's Emma Watcke had a modest answer when asked if the Wildcat women expected to win the Midwest Athletic Conference Track and Field championship on Friday.
"We were just hoping that all of our hard work would pay off," Watcke said.
Everybody in the crowd, however, probably did expect it to happen.
And sure enough, Minster delivered.
Watcke claimed individual golds in the 1,600- and 3,200-meter runs and the Wildcats dominated the distance races - plus a whole lot more - as they won the team crown with a score of 141 1/2 points in Versailles.
"It's feels really cool because it's not just about what we did, it's about the runners before us and everybody who built the legacy before us," said Gwen Meiring, who finished runner-up in the 3,200. "It's just cool to be able to carry it on."
The Wildcats' 4x400 relay team ended the night with a MAC record-breaking performance as the group of Janae Hoying, Lillian Hirschfeld, Cassie Francis and Madeline Magoto ran a time of 4:01.31, which bested the record mark previously held Minster's 2011 team.
It was the sixth consecutive MAC team title for the Wildcats, who hope to add more hardware to the trophy case in the coming weeks. Minster has finished state runner-up the last three seasons.
"We're definitely feeling good," Watcke said. "There's obviously been really good teams in the past, but we're just hoping that we can get that one spot higher this year."
Versailles placed second in the girls' standings with 124 points. New Bremen (90 points), Coldwater (77 points) and Parkway (61 points) rounded out the top five.
Watcke (5:16.56) and teammate Kaitlynn Albers (5:23.56) finished first and second in the 1,600. Watcke (11:30.15) and Meiring (11:50.07) swept the 3,200. Madeline Magoto (2:17.00) and Francis (2:20.87) also took the top two spots in the 800.
Minster's 4x200 team of Paige Thobe, Hirschfeld, Jessica Falk and Ivy Wolf placed runner-up (1:48.29) to Versailles (1:47.26).
"On Tuesday, our field events did really well," Minster girls coach Jessie Magoto said. "Hannah Pack won in the high jump. We took one and three (Kaitlynn Albers placed third), which we weren't expecting. Our girls just really rose to the level of competition. I'm very happy with that. We went one and two in the mile, two-mile and 800, which we were hoping for. We had some others fighting and some others filling in and they all did pretty good."
Parkway's Sydney Crouch won the 100 (12.82 seconds), 400 (59.72 seconds) and 200 (26.08 seconds).
"I pretty much owe it all to my coaches and my team," said Crouch, who saved enough to out-kick Versailles' Ava Morgan for the victory in the 200, her final race of the meet. "They push me hard all the time in practice and I probably wouldn't be here if it weren't for them."
Marion Local's Aubrey Thobe took runner-up in the 100 hurdles (15.90 seconds). Kylie Albers was a silver medalist in the 300 hurdles (47.23 seconds). The Flyers' 4x100 relay group of Brooke Homan, Morgan Mescher, Natalie Rethman and Kylie Albers finished second (51.82) to Versailles (50.69).
New Bremen's Paige Jones had a runner-up finish in the 400. Jones, a state qualifier in the event once before, ran a time of 1:00.36.

BOYS
Fort Recovery collected five golds Friday on its way to a fourth-place finish.
Midway through the meet, MAC Commissioner Don Kemper tweeted 'News flash, Robby LeFevre is fast!'
LeFevre also has some really fast relay-mates.
Fort Recovery's 4x200 team of Brayden Schoen, Riley Pearson, Jared Timmerman and LeFevre posted a winning time of 1:32.43, missing out on the school record by three one-hundredths of a second (1:32.40). The 4x100 group of Pearson, Jacob Acheson, Schoen and LeFevre claimed the title in a time of 44.42 seconds.
"Our handoffs ended up being really good, which I think is the most important thing, other than speed obviously," Acheson said.
"We had strong handoffs and we just ran as fast as possible," Schoen added.
The same 4x100 group made the podium at state last year and is hoping for a return trip to Columbus. This time, the 4x200 team could be there too.
"We're all really close," Timmerman said. "It's just amazing that we can all work together so well. Hopefully we make it back to state in the 4x100 and we have a good chance at going in the 4x200."
"The expectations are high," Acheson said. "I think we have our eyes on state and we're looking to do better than last year at state."
"We have so many solid runners and then you add in Robby, who's one of the fastest runners ever in the MAC," Pearson said. "It's really hard to beat a team like that. It's the right combination."
LeFevre won titles in the 100 (11.11 seconds) and 200 (22.21 seconds). Sophomore teammate Drew Muhlenkamp claimed the 800 championship (2:02.10). Muhlenkamp was appearing in just his fifth meet due to his time split with baseball. He surpassed St. Henry's Devin Huelskamp (2:03.09) in the final straightaway to get the victory.
Versailles won the boys' team title with a score of 153 points. Marion Local compiled 116 1/2 points for second place and its highest team finish at the MAC since 2001. Rounding out the top five were Minster (111 1/2 points), Fort Recovery (77 points) and Parkway (53 points).
The Tigers' Josh Steinbrunner set a new record in the 110 hurdles with a time of 14.66 seconds. The previous record-holder was New Bremen's Bryce Bergman, who ran a 14.75 split in 2008.
Minster's Zach Heuker took second Steinbrunner in the 110 hurdles (15.66 seconds) and second (41.79 seconds) to Steinbrunner (39.96 seconds) in the 300 hurdles.
Marion Local's John Tangeman scored three top-four finishes (1,600, 800 and 400), highlighted by a second-place showing in the 400 (51.99 seconds).
Marion Local's 4x200 and 4x100 quartets finished runner-up to Fort Recovery in both events. The Flyers posted a 1:36.50 in the 4x200 and a 45.81 in the 4x100. Marion's 4x400 relay finished second (3:33.61) to Versailles (3:28.46).
Versailles' Joe Spitzer broke the 3,200 meet record with a time of 9:19.87. The record had been held by Versailles grad and University of Oregon standout Sam Prakel, who clocked in at 9:29.14 in 2012.
Parkway's Matt Gaerke was runner-up to Spitzer with a mark of 10:18.19.
Coldwater's Galen Backs earned runner-up honors in pole vault, the lone field event scored on Friday. Backs cleared 12-0. Versailles' Luke Shellhaas won (13-0).
See full results from meet on page 14.