Monday, May 14th, 2018
Getting the sweep
Schatz claims both weekend Outlaws features; Windom takes Saturday's USAC sprint main event
By Mike Ernst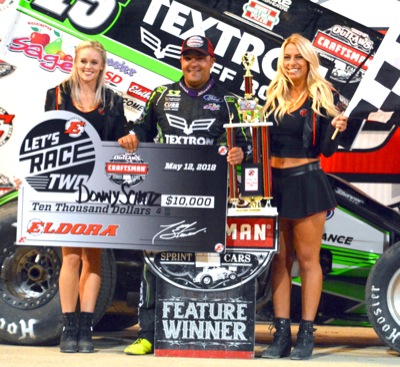 ROSSBURG - Donny Schatz wrapped up a dominating weekend at Eldora Speedway on Saturday night. He won for the second consecutive night and swept the World of Outlaw Craftsman Sprint Car Series portion of the #LetsRaceTwo weekend at the high-banked, half-mile clay oval.
Chris Windom joined Schatz in victory lane, taking the lead early and pulling away from the field to a convincing victory in the United State Auto Club (USAC) Amsoil National Sprint Car Series event.
Schatz took the lead from Parker Price Miller on lap five and led the rest of the 30-lap chase, but it was far from easy. After a lap 8 caution flag for Sheldon Haudenschild, who spun in turn four, Logan Schuchart, who had moved into second-place on lap 6, restarted alongside Schatz and pressured the nine-time Outlaw champion throughout the middle stages of the race. Schuchart pulled alongside Schatz on several occasions but could never make a pass for the lead.
"My dad told me a long time ago, 'If you are worried about what is behind you, you are going to have a hell of a time handling what's in front of you' " Schatz said. "I've always raced like that and tonight was no different."
On lap 25 the final caution flag of the event flew when Spencer Bayston spun to a stop in turn two. With the lapped traffic eliminated and a clear track, Schatz was able to pull away over the final 5 laps to capture the $10,000 top prize and his 11th career win at Eldora, which puts him just one behind Joey Saldana for third on the all-time Eldora/Outlaw win list.
"We love lapped traffic. That's where races are won and lost," Schatz said from Eldora's famed victory stage after his eighth Outlaw win of the year. "My guys are incredible. We keep working, keep digging and keep finding ways to be up here at the end of the night,"
Schuchart was challenged by Aaron Reutzel for second over the final five laps but held on to finish in the runner-up position for the second consecutive night. Reutzel finished in third, while Kraig Kinser and Tim Shaffer completed the top five.
"It was a lot of fun racing up there. I know my heart was pumping. It was hard to stay calm," Schuchart said. "What a great weekend for us. Two podiums and if you are going to finish second to someone, that's a helluva team to finish behind. They are incredible, but we are going to try and keep working hard to beat them."
Rounding out the top 10 were Miller; Kerry Madsen; Brad Sweet, who had started 17th; Ian Madsen, who had started 22nd; and Daryn Pittman, who had started 24th.
David Gravel was the fastest qualifier, turning a lap of 12.910 seconds. Heat races were won by Schuchart, Kerry Madsen, Schatz and Reutzel. Schatz won the dash to earn the pole starting position and Brent Marks won the B-main.
Windom, the defending USAC Sprint Car champion, entered the Eldora weekend back atop the point standings but the Canton, Illinois, driver had yet to visit victory lane in the first seven series events.
Windom was in a heated battle with Kevin Thomas Jr. in the early laps when two different red flags slowed the event in the first five laps. First Justin Grant brought out the red flag when he flipped in turn 2 on lap 2, and then pole-sitter and third-place Joe Stornetta went for a wild, end-over-end flip in turn four on the restart. Both drivers walked away uninjured.
Two laps after the restart from the Stornetta mishap, Windom pulled a classic Eldora slide job on Thomas to take the top spot. Once out front, Windom pulled away and was never seriously challenged and cruised to his second career at Eldora.
"The first couple of laps, I didn't know how great my car was with the way we were sliding ourselves," Windom said of his early battle with Thomas. "Once we started rolling the top, I knew the car was really good. As long as I didn't mess up on my end, it was going to be tough for anyone to get to us. This place is just so mentally and physically demanding. Running the cushion like that is tough to do for 30 laps."
With Windom dominating out front, fans were entertained with a fierce battle throughout the top five. Thomas, Tyler Courtney, Friday's winner Brady Bacon, Robert Ballou, Chase Stockon and C.J. Leary swapped positions lap after lap.
When the dust settled, Courtney ended up in second ahead of Stockon, Bacon and Ballou. Thomas, Leary, Matt Westfall, Kyle Cummins and Dallas Hewitt completed the top 10.
Minster's Paul Dues finished the main event with his best career Eldora finish, coming home 12th.
Eldora will host the first Family Fireworks Night of the season on Saturday night. On-track action will be provided by the National Racing Alliance 360 Sprint Cars, the UMP DirtCar Modifieds and the Eldora Stocks.