Tuesday, May 15th, 2018
Slusher has big year with Capital
College Notes
By Daily Standard Staff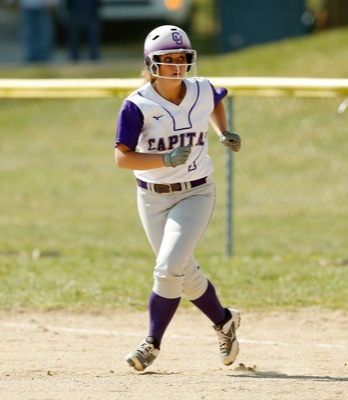 By Colin Foster and Gary R. Rasberry

Parkway graduate Alyx Slusher finished her freshman season with the Capital University softball team hitting .307 with two home runs, 22 RBIs, 14 runs scored, 19 walks and an on-base percentage of .420 in 40 games. Slusher led the team in walks and on-base percentage, and ranked fourth in batting average.
The Crusaders finished 9-31 and wrapped up their season in early May with a two-game split against Mount Union.
Kaity Kuhn (Celina) and Defiance finished their season with a loss to Transylvania in the Heartland Collegiate Athletic Conference Tournament semifinal. Defiance finished 23-14 on the season.
Kuhn, a senior, started all 37 games and hit .287 with 16 RBIs and 25 runs scored.
Junior pitcher Rachel Wehrmann (Minster) finished with a 5-6 record with two saves and a 3.45 ERA in 91 1/3 innings for the Yellow Jackets.
Ohio Wesleyan's Kayla Richard (Minster) had an RBI double in the first game of last weekend's doubleheader sweep of Wooster. The Battling Bishops won the games by scores of 6-3 and 5-3.
Richard hit .344 with three home runs, five doubles and 23 RBIs, playing in all 30 games. She ranked fifth on the team in batting average, second in home runs, third in RBIs and fourth in doubles.
The Bishops came up just short of reaching the top four spots that qualify for the North Coast Athletic Conference tournament. They finished 16-14 overall and 9-7 in conference play, one game behind Allegheny for the final spot.
Alex Ontrop (St. Henry) and the Edison State softball team ended the year with a record of 6-14 and 1-11 in Ohio Community College Athletic Conference play.
Ontrop went 2-5 with one save and an earned run average of 8.81 in 14 appearances from the pitcher's rubber. She also had a batting average of .238 with two doubles and four RBIs for the Chargers, who won their final two games of the season against University of Northwestern Ohio and Wilmington College.
BASEBALL
Malave Bettinger (Coldwater) was named OCCAC First Baseman Player of the Week after a big performance in Sinclair Community College's 21-2 win over Eastern Gateway last week. Bettinger went 2-for-3 with two home runs, three runs scored, two walks and six RBIs.
Bettinger is hitting .341 with nine home runs, 33 runs and 50 RBIs in 41 games. He and fellow Coldwater alum Aaron Harlamert (.171 batting average, eight runs, three RBIs) helped the Tartans claim their eighth OCCAC regular season title in the last 10 years.
The Tartans have won a program-record 28 consecutive games and boast an overall record of 40-8. They will play an opponent to be announced on Friday in the NJCAA District tournament in Sandusky at Sports Force Park. The winner will continue on to the Division II College World Series.
Adam Niemeyer (Minster) and Ohio State took two of three from Purdue this weekend. Coach Greg Beals picked up his 500th victory with the Buckeyes' 4-2 win on Friday. That result also snapped the Boilermakers' nation-high 13-game winning streak.
Niemeyer gave up six runs on eight hits in Sunday's 16-6 victory. He went 3 1/3 innings with two walks and one strikeout and did not figure in the decision.
Niemeyer is 3-2 on the season with a 6.22 ERA in 13 starts. He has struck out 47 and walked 19 in 59 1/3 innings for the Buckeyes, who stand at 33-17 and 13-8 in Big Ten play.
Josh Nixon (Minster) and the Dayton Flyers went 1-2 against Rhode Island this weekend, with the lone win coming by a 9-4 count on Friday. He gave up two earned runs during a brief stint in Saturday's loss.
Nixon is 1-5 with a 9.15 ERA in 19 appearances. He has allowed 31 hits while striking out 19 and walking seven in 20 2/3 innings.
Edison State lost its game with Lakeland Community College, 4-0, in the NJCAA Region VII Division II Sub-District Tournament last Friday at Sandusky.
Jackson Hobbs (Fort Recovery) didn't pitch in the loss. He finished the season with a 2-3 record and a 5.79 ERA. He appeared in 13 games, striking out 30 and walking nine, as the Chargers wrapped up the campaign with a record of 15-30.
Ohio Dominican secured its first-ever NCAA Midwest Regional Tournament bid.
The Panthers earned an at-large bid and a No. 4 seed. They take on No. 5 Quincy at Illinois-Springfield at 11 a.m. on Thursday.
Derek Thobe (Coldwater) threw 7 2/3 innings for Ohio Dominican this season, finishing with a 9.39 ERA while striking out eight and walking 10.
TRACK AND FIELD
Wright State's Maria Heckman (Minster) finished runner-up in the pole vault at the Outdoor Horizon League Championships by clearing 3.67 meters.
Heckman and the Raiders went on to take fourth in the team standings with a total score of 89 points. Youngstown State won with 236 points.
Ohio State's Sarah Kanney (Coldwater) placed 12th in the 3,000-meter steeplechase over the weekend at the Big 10 Outdoor Championships in Bloomington, Indiana. She finished with a time of 10:41.87.
The Buckeye women tied for fifth as a team with 60 points.
Colorado's Michaela Wenning (Celina) took seventh in the women's high jump by clearing 5-6 at the Pac-12 Championships over the weekend in Palo Alto, California.
Colorado finished fifth at the Pac-12 Championships with a score of 76 points - its second-best finish in the past seven years.
Indiana Wesleyan's Paige Sutter (Celina) placed second in the discus with a toss of 39.68 meters to earn All-Crossroads League honors. Indians Wesleyan placed second as a team with 157 points.
St. Francis' Clista Hellwarth (Parkway) notched a third-place finish in the javelin at the Crossroads League Championship. She had a toss of 33.05 meters, and the Cougars placed seventh as a team with 26 points.
Ohio Northern's Danielle Sutter (Fort Recovery) surpassed her season-best time in the 3,000 steeplechase over the weekend at the Dr. Keeler Invitational in Naperville, Illinois. She finished 18th overall with a mark of 11:33.36.
Eastern Michigan junior Bekah Carr (Celina) finished eighth in the pole vault at the Mid-American Conference Outdoor Championships. Carr cleared 11-10 1/2 to help the Eagles finish as runner-up in the meet.