Wednesday, May 16th, 2018
From player to GM
Celina grad McGohan takes on new role with Mariners
By Colin Foster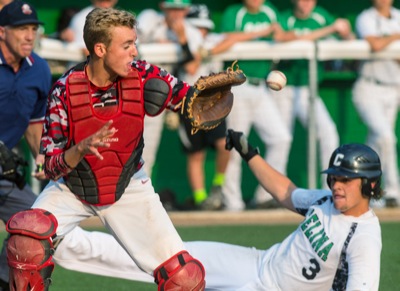 Kevin McGohan had success in high school as a player at Montgomery Field.
The 2016 Celina High School graduate is now ready for a successful stint as new general manager of the Grand Lake Mariners.
The 20-year-old Ohio University student takes over the general manager role that had been filled by Barb Delzeith for the past several summers. A year after having served as an intern, McGohan becomes the youngest GM in Great Lakes Summer Collegiate League history.
"There was a lot of hesitation at first, you know, because here I am this 20-year-old kid trying to run a baseball team from three hours away," McGohan said. "To the board, it was a pretty crazy idea and I totally understand the hesitation because I probably wouldn't trust a kid my age either. I eventually just got talking to some different people. I was able to sit down at a board meeting and give them my plan for the Mariners and kind of what I wanted to do to improve the organization - and they loved it."
Three weeks before the start of last season, McGohan was contacted about an internship opportunity with the Mariners by a friend from the Sports Business Association, an organization with which he's involved at Ohio.
"Someone from the Sports Business Association texted me and said 'You have to do this. This is in your hometown,' " McGohan explained. "I didn't really plan on doing an internship my freshman year - most places don't hire freshmen. I kind of jumped on board at the last minute. I had a good year working for Barb. I felt like I learned a lot and kind of through that process, I learned a little about just kind of what it took to run the team. She obviously did a majority of the work and did a good job doing that, but I was helping out in a lot of aspects."
Delzeith has been a longstanding part of the Mariners as a board member and as general manager, but had been looking to end her run as GM. With that in mind, McGohan began talking with different board members and planting the idea of possibly taking over as GM.
Since accepting the position, McGohan has been working from Athens and also making trips home in preparation for the season. He has communicated and spent time with employees of the Southern Ohio Copperheads, a GLSCL team based in Athens that is staffed by entirely Ohio University students, to learn about what it takes to run a successful organization.
"OU's the No. 1 sports management in the country, so they know how to do things right," McGohan said. "I've talked with a lot of people there. Their VP is one of my career coaches at OU. I know their GM. I know their director of sponsorships and ticket sales. I know the people they had this year. I know the people they had last year. Before I sat down with the Mariners board, I sat down with people from the Copperheads and asked them what they do.
"I think Barb did a great job with the resources she had available," he added. "But there just wasn't enough manpower to get what we wanted to get done to improve the team."
McGohan boosted the manpower this season, expanding the number of interns to six. The goal is to ramp up marketing efforts, sponsorship, attendance and community involvement and turn the Mariners into Celina's premiere summertime entertainment. "This is the top sports talent we have in our area and it's not even close," McGohan said. "I mean we have Division I baseball players coming here to play in the summer, and I think people are missing that because it hasn't ever been big in the community. With that, we're ramping up marketing efforts. I want to really get it out there what the Mariners are and what they're trying to do, but along with that, the biggest thing we want to do is bring different promotional nights."