Tuesday, June 12th, 2018
Area resident visits McCarty Dairy
By Ryan Snyder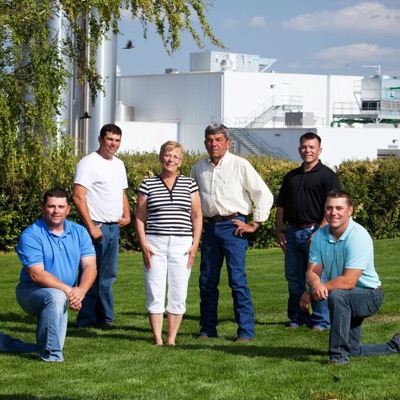 REXFORD, Kansas - Recently while returning from a road trip to Utah and Colorado, my family and I visited the McCarty family dairy outside Rexford.
We live a few miles east of the new MVP dairy, which will be co-managed by McCarty and VanTilburg Farms, and we wanted to get a preview of the planned project. We are not farmers, but our neighbors have some turkey and hog barns, so we are accustomed to "Mercer County air." Like most people near the proposed megadairy, we were anxious about how it was going to affect us. I was pleasantly surprised by what I saw, heard and smelled.
While driving through western Kansas and eastern Colorado, you can often smell a cattle feed lot before you see it. Even with the windows up, the odor is quite foul. Having looked at satellite pictures of this McCarty dairy and seeing how large it was, I had braced myself for the same. I did notice one unusual thing about this location - a house surrounded on three sides by cows. Not a little modular in which migrant workers bunk but a nice modern house complete with a pool in the back yard. I learned this is the home of Tom and Judy McCarty, the heads of the McCarty clan.
The day before I visited, the area got about 4 inches of rain - a lot for an area that gets about half of Mercer County's annual rainfall. I was expecting a muddy, stinky mess. To my surprise, some puddles were scattered around the gravel drives but not much more.
The first thing I did upon arrival was take a big sniff and was very surprised. It was nothing like the other cattle operations I had passed. My first thought was "there should be french fries." It smelled like I was at the Mercer County Fair waiting in line for fries at the FFA stand near the animal barns. Only the deep fried and grilled aromas were missing. I could tell some animals but no rotting piles of manure were nearby.
After a few minutes of talking with the friendly secretary, my guides, Dave and Clay McCarty, arrived. They are two of the four brothers who run the four McCarty dairy operations in Kansas and Nebraska. We talked for a few minutes about the McCarty family history and their move from Pennsylvania.
They talked about how the MVP dairy will be 20 years more advanced than that facility, how pumping groundwater affects the environment and future generations. They also talked about confronting the consequences of adding automation to some of their operations and what impact that would have on some of the very small communities they support. They had been caught off guard by the largely negative reaction of Mercer County residents. The McCartys had been invited and given a community development loan to build a dairy in Bird City.
Before long, my three kids were ready to move on. We started walking between the house and open feed lots. Dave and Clay talked about their certification from Validus, an independent company that reviews policies and performs on-site evaluations to ensure consumers know the farm takes good care of the animals, the workers and the environment.
Stay-at-home moms review video and flag for review any signs of animal abuse. It's not a perfect system, a worker throwing up his hands in frustration can look like he's trying to scare an animal, but it seems to work well. The family has terminated one employee for violating animal welfare in six years.
As we went behind the house, a stray calf that had escaped was just hanging out on the lawn. Later I saw her trotting behind a worker like a lost puppy going home.
At the cow maternity ward half a dozen newborn calves were together in their own straw-filled pen. Despite my efforts to plan a fun and exciting road trip, this moment was the highlight for my animal-loving 3-year-old, Ella. Five National Parks don't hold a candle to touching a newborn calf.
Next, we walked back to the first of the main barns. It is a free-stall barn in which the cows can roam, eat and sleep at their leisure. Feeding troughs are in the center, and cows access it through individual openings called headlocks. Across a concrete alley are stalls with a sand floor. They are short enough that most manure falls into the ally so the sand stays clean. The sand is to give the cows a comfortable dry place to rest and ruminate. At cleaning time, a pipe the size of a manhole floods the alley with water and flushes the manure into the treatment system. Dave said the barn is similar to what is being built in Mercer County. Instead of having open sides, though, the Ohio barns will have polycarbonate plastic panels on the long sides and big fresh-air intake fans on the north side.
Our last stop was the milking parlor. The first thing I noticed was the loud mariachi music. Most of the workers were Hispanic, and I have to wonder if the cows have been conditioned to let down their milk to the music. As a fresh batch of cows entered, one was already leaking milk before being hooked up to the machine. The outside temperature was climbing above 80, but water misters kept the parlor nice and cool.
Back at the van a moderate number of flies were buzzing around. They were the first I had noticed. Many more appeared when we returned home and left the doors open while cleaning the van. Apparently, 4,000 miles of driving with five people, two in diapers, lots of spilled snacks and infrequent showers make a vehicle attractive to flies.
I didn't get to experience the operation of the irrigation system that pumps out treated wastewater. It had just rained more in one day than than the area usually gets in all of May, so it would have been irresponsible to activate the sprinklers just so I could get a sniff.
We tent camped all but one night on this road trip, and we used a variety of bathrooms, from foul pit toilets to immaculate porcelain. If a strong odor emanated from raw sewage in a pit or chemical carnations from a fresh cleaning my 5-year-old boy, Riley, would plug his nose.
He did the same thing when we would drive by most cattle feed lots or change baby Aiden's diaper. At the dairy, he never plugged his nose or announced that somebody needed a diaper change, which for Riley is a rather sterling olfactory review.
The McCartys acknowledged they face a learning curve at the new MVP dairy, but they have every confidence in Brock Peters, who has worked with them for 10 years and has moved to Mercer County to manage the dairy here.
As a neighbor and nonfarmer, I think their biggest challenge will be determining how a wetter, more humid climate will affect everything from how fast the floor dries after flushing to when they can irrigate. The site also will have almost twice as many cows as their largest existing dairy. On the other hand, research and technology that are 20 years newer is going into MVP.
When I first heard about the MVP, I was not happy. I envisioned a typical Kansas-style feed lot that is an environmental disaster and hell to live near, but after visiting this McCarty dairy, I have changed my mind. They showed me it's possible that a whole bunch of cows can be decent neighbors. Of course, I would prefer a cornfield instead of the dairy, but if I lived next door, I would not fear for my health and happiness. I don't think it will be that much different than one of Mercer County's many other animal operations.
I live a couple of miles away, and I don't think it is going to have much impact on my family, except perhaps if Ella learns more baby cows are there to visit.