Wednesday, June 13th, 2018
Father-son bond remains strong through years
By Ed Gebert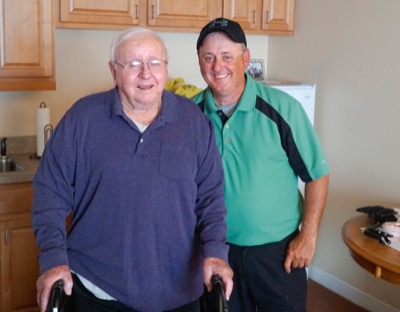 NEW BREMEN - Tom and Jim Seigle may no longer live on the same 140-acre farm, but the father and son still see each other every day, sharing a close relationship.
Jim Seigle, 55, is the youngest of four children raised by Tom and Martha Seigle on the family farm outside of McCartyville, the same farm on which Tom Seigle had been raised. Jim Seigle's older siblings are David, Mary and Debra.
"Their relationship is unbelievable, unbelievable," said Jim Seigle's wife, Amanda, of the father and son.
Tom Seigle, 89, retired from the family farm about three years ago when his wife passed away. They had been married 60 years. Jim Seigle moved back in to help care for his father. Eventually, Tom Seigle's health deteriorated to the point of needing professional care, and the two decided he should move to Elmwood Assisted Living of New Bremen.
"Jim made a promise to him," Amanda Seigle said. "That was probably the hardest day, driving off that farm and bringing him here, even though he said he would be OK. Jim said, 'Dad, I'm not putting you in there and letting you sit. I'm going to be there every day.' "
Except for days when his own health issues interfered, Jim Seigle has made good on that promise. He said staying true to his word was how he was raised.
"We take care of each other. Just like you helped take care of Jim," Amanda Seigle said to her father-in-law.
"Yup, that's true," the patriarch said, nodding in agreement.
Jim Seigle works at Crown Equipment Corp. in New Bremen and usually visits his dad in the afternoon.
"He's been a good example. He's taught me a lot of good values in life," Jim Seigle said. "He's supported me with anything that I ever needed. He's always behind me. He supports me in everything he can. He's taught me a lot of good values: the way to treat people, how you should treat people. You treat them the way you want to be treated. There's a lot of good values, a lot of good faith. He has a strong faith, and he's passed that on to me. Him and Mom were very good people to look up to."
"I'm feeling better and better," his father said jokingly in reply.
Tom and Martha Seigle instilled values in their children throughout their lives, Amanda Seigle said. She noticed the family before she married Jim Seigle.
"I can say that they were the hometown farm family, always had a five-course meal, everybody respected each other. It was always 'please' and 'thank you.' The kids always got up and helped wash dishes or do whatever. Church was a very high priority. He taught the kids how to be hard workers, respectful to women and to others. I never heard a bad word or anything negative in his house ever," she said.
"If you're not that way, you're just shooting yourself in the foot or making things worse," Tom Seigle added.
That way of life has been passed down to Jim and Amanda Seigle's three teenage sons, Jarred, Dylan and Carter, who help out with their grandfather's care when their parents' schedules get too busy. But Jim Seigle still makes it a priority to come visit each day with his dad.
In that respect, Father's Day will be no different for this father and son.
"Father's Day is so you appreciate the dad you had, and all they've done for you, and a lot of things you take for granted that you appreciate later in life, everything your dad has done for you," Jim Seigle said. "You don't always get to express to them everyday what they do mean to you, but it's a nice day to let them know what they mean to you. I'm proud of Dad. Couldn't ask for a better one."