Monday, July 9th, 2018
Busy weekend
St. Henry, Coldwater qualify for district tournament
By Gary R. Rasberry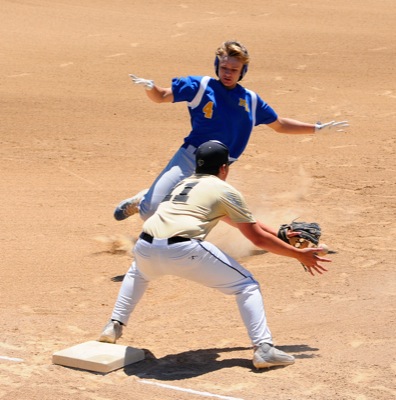 ST. HENRY - The top seeds from the Mercer County ACME baseball sectional will move on to this week's district tournament after a weekend of games at the Wally Post Athletic Complex.
St. Henry punched its ticket first on Saturday, defeating Coldwater 8-4 in the winner's bracket final.
The top-seeded Cavaliers needed a win over Marion Local, which won two elimination games to advance to the elimination bracket final, to clinch the other berth. Coldwater shrugged off an early Flyer charge to win 13-5 on Sunday afternoon.
The Redskins and Cavaliers meet again tonight at 6:30 p.m. in a game to determine seeds for the district. Both teams will play in the district tournament starting Friday at Veterans Field in Coldwater.

SUNDAY
Loser's Bracket Final
Coldwater 13, Marion Local 5
The Flyers, coming off beating Parkway 9-2 in an elimination game an hour earlier, kept their momentum going with runs in the first and second inning to go up 2-0 as Zach Bruggeman, running for Brandon Fleck after Fleck was hit on the cheekbone by a pitch, scored on a wild pitch and later Kyle Muhlenkamp scored on an error.
Coldwater tied the game in the bottom of the second on an RBI groundout that scored Austin Riethman and later Myles Blasingame coming home on a wild pitch. The Cavaliers took the lead with four runs in the third as Riethman had a two-run single and later scored on a wild pitch and then Jake Hemmelgarn singled home a run to make it 6-2.
"Marion got up 2-0 and we had to battle our way back," Coldwater coach Tom Brunswick said. "We did answer. We got a big hit and run from Jacob Wenning and two RBIs from Austin Riethman to get us going."
Another four-run inning in the fourth put the game away for the Cavaliers. Jacob Wenning had a two-run single and Blasingame and Hemmelgarn each had RBI singles. Coldwater later added a run in the fifth and two more in the sixth.
Grant Meyer kept Marion at bay for 4 1/3 innings, allowing four runs - three earned - on three hits with seven strikeouts and four walks. Wenning took over in the fifth and held the Flyers to just one more run.
"Grant did a great job," Brunswick said. "He came in (Saturday) and struck out three hitters. Today, we went to him and he threw about 85. He threw very well for us.
"Marion played a lot of ball," continued Brunswick referring to Marion's having played 21 innings in a span of 24 hours. "The key was we were able to respond (after falling behind) and then able to add on."
Wenning went 3-for-4 with two RBIs. Noah Miller and Riethman each added two hits.
Muhlenkamp scored three of the Flyers' five runs.

Elimination Game
Marion Local 4, Parkway 1
Both teams scored their runs in the second inning. The Flyers quickly committed two outs with a runner on base when Muhlenkamp tripled home Bryce Moeller for the first run. After walks to Kyle Grancis and Matt Moeller, Reece Eifert singled home two runs to make it 3-0. Fleck added the final run with a single.
Parkway got back a run in the bottom of the inning when Noah Riley scored on a wild pitch, but Nolan Habodasz came through with a great performance on the mound. Habodasz scattered nine hits but walked just two and hit a batter as Parkway stranded nine runners on base. The Panthers loaded the base with two outs in the fifth, only to have Habodasz entice a ground out to Noah Riley for the third out.
Nick Riley was also dominating after the second inning. The Panther pitcher allowed just one more hit to scatter four hits over five innings before Nick Hawk came on to finish the game.

SATURDAY
Winner's Bracket Final
St. Henry 8, Coldwater 4
Rylee Deitsch scattered four runs over seven innings and the Redskins had two big innings late in the game to beat the top-seeded Cavaliers to punch their ticket to the district.
Coldwater tied the game in the top of the fifith when Mitchell Niekamp led off with a single and stole second and third before scoring on Noah Miller's groundout to second.
St. Henry put themselves over the top in the bottom of the fifth with two runs. Sam Lefeld led off with a double and went to third on a groundout. Andrew Lange, who had grounded out to second in his previous two at-bats, singled down the third base line to score Lefeld. After Kent Buschur singled, Zach Heitkamp lofted a fly to center that appeared to be catchable but was dropped, scoring Lange as Buschur was forced out at second.
"I always said it's all about hitting," St. Henry coach Kevin Lange said. "We hit well.
"The whole lineup did their job (today). It was nice to see."
The Redskins picked up two insurance runs in the bottom of the sixth. Lefeld singled home Ethan Thieman and Daylen Froning later scored on a wild pitch.
Deitsch allowed a run in the top of the seventh before closing the door to end the game.
"We hit the ball well and played good defense for the most part," said Deitsch. "Early on I couldn't locate my pitches and they got some hard hits. Later I could locate my change-up and fastball."

Elimination Games
Parkway 9, Fort Recovery 2
Noah Riley pitched a five-hitter, had two hits and scored two runs to lead the Panthers past the Indians. The teams only played 2 1/2 innings during the regular season due to weather and could not complete their summer series.
A six-run second inning allowed Parkway to overcome an early 2-0 deficit. The Panthers added single runs in the third, fourth and seventh innings.
Corey Walls added a triple for the Panthers.

Marion Local 11, Celina 9
Nathan Ungruhn had a double, triple and four RBIs and Aaron Brunswick fended off a late Bulldog comeback as the Flyers ended Celina's season.
Marion scored three runs in the bottom of the first to take a 3-1 lead and then added four runs in the fourth and three in the fifth to take an 11-5 lead into the top of the seventh. Celina tried to rally by plating four runs, but Aaron Brunswick closed the door for the win.
Reece Hess added a double for Marion while Caden Highley doubled for Celina.