Wednesday, July 18th, 2018
Grant to aid land buy
Chickasaw Creek treatment train is planned on 40 acres
By William Kincaid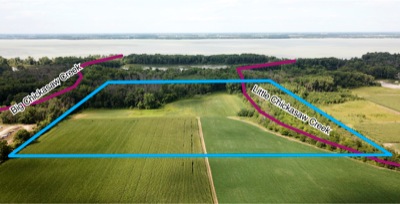 CELINA - Mercer County commissioners on Tuesday approved an agreement to accept a $550,000 state grant on behalf of the Lake Facilities Authority to help purchase 40 acres of land to build a fourth treatment train in the Grand Lake watershed.
The Ohio Public Works Commission Clean Ohio Conservation Fund grant for the Chickasaw Creek Wetland Restoration project is contingent upon local officials striking a deal to buy the land in Franklin Township north of State Route 219 between Behm and County Line roads.
Officials have been in discussions with the owner, trustee Quivey Donnagene of Charleston, Illinois, for about a year, county community development director Jared Ebbing told the newspaper. Now that they've secured the grant, Ebbing said he is confident they'll be able to close on the property before year's end.
"We still have work to do," Ebbing told the newspaper.
The property acquisition, which includes planning and implementation, is estimated to cost $750,000, according to the commissioners' resolution.
"The currently tilled farmland will return to grassland and the site will be managed for wetlands preservation and native wildlife habitat," the resolution states. "The area will be open to the public during daylight hours, seven days a week year round."
Under the terms of the grant, the local match is 26 percent of the total project costs. Ebbing said the cost will be picked up through a $2.5 million pass-through grant the LFA has received from the state.
The LFA, a political subdivision of the Mercer and Auglaize counties governments, will ultimately hold the land, according to the resolution.
The land acquisition and transformation, according to the agreement, will be overseen by three officials - county commissioner Jerry Laffin serving as chief executive officer, county auditor Randy Grapner serving as chief fiscal officer and Ebbing serving as project manager.
If everything comes together as planned, construction on the treatment train could start late next spring, he said. Treatment trains are part of a long-term plan to stop toxic blue-green algal blooms from growing in Grand Lake. The phosphorus-fueled blooms have resulted in state-issued water advisories on the lake every year since 2009 and reportedly millions of dollars in lost tourism around the 13,500-acre lake.
The 40 acres in question are ideal for a fourth treatment train because they sit where the Big and Little Chickasaw creeks come together before flowing into Grand Lake, Ebbing said, allowing for the filtration of phosphorus and other unwanted nutrients before they can enter the 13,500-acre body of water that has been under a no-contact advisory since July 2016 due to unsafe algal toxin levels.