Tuesday, July 24th, 2018
Lee crowned outstanding teen at pageant
By Sydney Albert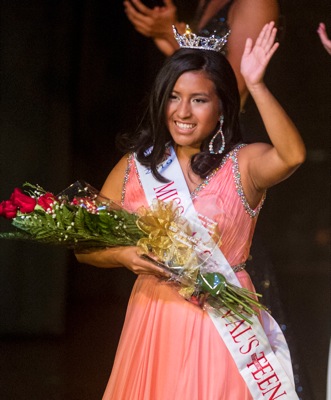 CELINA - Maleah Lee of Celina was crowned the 2018 Miss Lake Festival's Outstanding Teen at Monday's pageant.
The competition was held in conjunction with the Miss Lake Festival scholarship pageant.
Lee, 14, daughter of Diana Lee, during the talent portion of the competition performed a gymnastics routine to Shania Twain's "Soldier" in honor of her grandfather, who had fought in the Korean War. Her platform was "Open a Book, Open Your World: Chapter One."
For her onstage question, she was asked about her platform and how she could encourage teenagers to put down their technology and pick up a book. She said she considered modern teenagers lucky to have the technology they do because they can use apps to download electronic books onto their devices.
During the evening-wear portion, Maleah wore a pink dress that flowed behind her as she walked, with a bodice bordered with shining silver sequins. She received a $500 scholarship for her win.
Lauren Schroeder, 15, a Celina High School sophomore, was runner-up receiving a $300 scholarship. She also won the Miss Congeniality Award and the $200 scholarship attached to it as well as the Teen People's Choice Award and another $200 scholarship. She is the daughter of Robert and Ria Schroeder. For her talent, Lauren performed a song on the piano and sang a song she had written titled "Us," dedicated to her severely disabled brother.
Asked about her platform, "Acceptance and Inclusion of the Developmentally Disabled Community," during her onstage question, she said she would work to spread her message with a campaign called "Simply Smile," which would encourage people to smile at disabled people rather than send them an unkind look.
For her evening wear, she wore a black dress with a dazzling silver bodice that twinkled in the stagelight.
Other competitors included Julie Wadsworth, 16, and Julianna Lee, 15, both of Celina.
Wadsworth is the daughter of Wayne and Angie Wadsworth, and she will be a junior at Celina High School. For her talent, she danced to "Hallelujah" as sung by Rufus Wainwright. Her platform was "Bring Awareness to Special Needs Kids, Especially Those With Down Syndrome."
Julianna Lee is the daughter of Diana Lee and will be a freshman at Celina High School. For her talent, she performed to "Jai Ho," a song of victory through intense struggle. She was dressed in Indian garb of striking red with dangling golden accessories that emphasized her movements. Her platform was "The Belong Project."
The teens were judged on evening wear/onstage question, talent, lifestyle and fitness and a private interview. During the lifestyle and fitness portion, each girl performed a short fitness routine.
Maleah will have the opportunity to compete in next year's Miss Ohio Outstanding Teen competition.